Home »
Clyde-Savannah Golden Eagles
Wayne County league action takes centerstage Monday night as the girls basketball rivalry on Route 31 heats up! The Clyde-Savannah Golden Eagles head west to take on the Lyons Lions. Paul Russo and Nate Sharman ...
more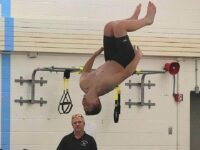 On December 1, Pal-Mac Boys Swimming hosted the Clyde-Savannah Golden Eagles for their first home meet, dominating the meet with firsts in every event. Pal-Mac had double winners with Avery Fedor in the 50 Freestyle (24.38) and ...
more
Despite the cold temperatures outside, a handful of games across the Wayne-Finger Lakes kept the local fans warm inside the gymnasiums across the region with the action heating up as the season enters mid-January. Check ...
more
It's a Saturday matinee rivalry game on FingerLakes1.com Radio. One of the classic rivalries reignites in Wayne County Girls basketball action as the Clyde-Savannah Golden Eagles head to Lyons to take on the Lions. Paul ...
more
FL1 Sports kicks off its broadcast season with an early season pivotal matchup in Wayne County Girls HS Basketball as East Rochester heads to Clyde-Savannah. Paul Russo and Jason Hunt have the call for the ...
more
The Class of 2021 valedictorian and salutatorian have been announced for the Clyde-Savannah Central School District according to an article published by the Finger Lakes Times. Jenna Manns, daughter of Bridget Manns and Sean and ...
more
A local school district was criticized in a preliminary report issued by State Comptroller Tom DiNapoli. The Clyde Savannah Central School District was said to have failed on the following points with regard to keeping ...
more
Join Jessica Lahr, Josh Durso and Jim Sinicropi for a wrap up of the week in the Finger Lakes, the latest on today's winter storm, and a look at your weekend ahead. Find out how ...
more