There were 12 winners of federal grant money totaling $5.8 million for economic and community development projects across New York's 28 county Northern Border Region.
A total of 55 applications were submitted and reviewed. However, there was only one local winner.
The Town of Fayette will receive $1,000,000 to install over 11 miles of sewer force main to approximately 330 parcels, which will connect the town's district to the Village of Waterloo Sanitary Sewer System.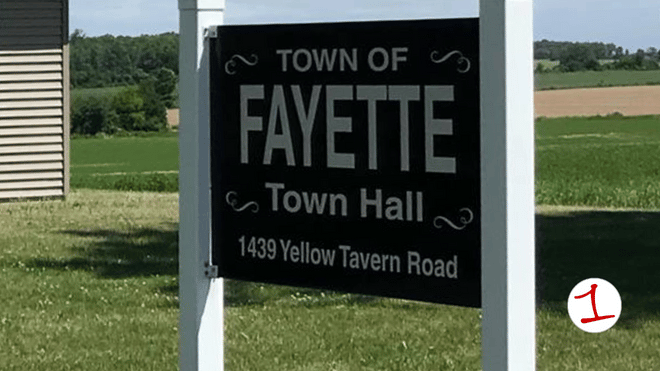 The new system will serve properties on Seneca Lake and reduce septic system discharge to the lake.
"Seneca County is grateful to all our partners in moving this important project forward. Our lakes are among our greatest assets and mean so much to our ever growing tourism sector," Seneca County Manager Mitch Rowe said in a statement after the announcement.
Supervisor Jeff Trout said the investment would ensure the health of Seneca Lake, foster job creation, and bolster quality of life in the town of Fayette. "This commitment is essential not only for our current agritourism business expansion but also for planned projects on Seneca Lake to come to fruition. I am grateful for the foresight of the Fayette Town Board in prioritizing infrastructure, to the Seneca County Board of Supervisors for the leadership in protecting our lakes, to Governor Hochul for her commitment to economic development and environmental stewardship, to Senator Helming and Assemblyman Gallahan for their commitment to the region, and especially to the Northern Border Regional Commission for their strategic approach to supporting community development in the region," he added.
The awarded projects were evaluated through a competitive process for their potential economic impact, the regional need for the project, the level of coordination with existing plans and regional activities, and their consistency with the priorities of the NBRC program. These projects will leverage an additional $11.5 million in funding and support additional private investment across the region.
"The awards announced today will be critical tools to support economic growth by focusing on critical infrastructure improvements throughout the region, while helping us build back a stronger New York," Governor Hochul said. "My administration continues to be laser focused on building for the future, and these investments highlight the importance of a strong federal, state and local partnership to continue supporting and strengthening the region's economy and moving New York State forward."
Cayuga, Clinton, Essex, Franklin, Fulton, Genesee, Greene, Hamilton, Herkimer, Jefferson, Lewis, Livingston, Madison, Montgomery, Niagara, Oneida, Orleans, Oswego, Rensselaer, St. Lawrence, Saratoga, Schenectady, Seneca, Sullivan, Warren, Washington, Wayne, and Yates counties make up the Northern Border region in New York.
---
---

Josh is the president and publisher of FingerLakes1.com. Have a question? Send them to [email protected].