Construction is complete on the new bridge that carries State Route 34B over Salmon Creek in the town of Lansing.
The newly constructed bridge replaces the original structure built in 1930 with a more modern, steel-framed bridge, announced Governor Kathy Hochul on Thursday.
The completion of the $18.4 million project was celebrated with a grand opening event on July 21.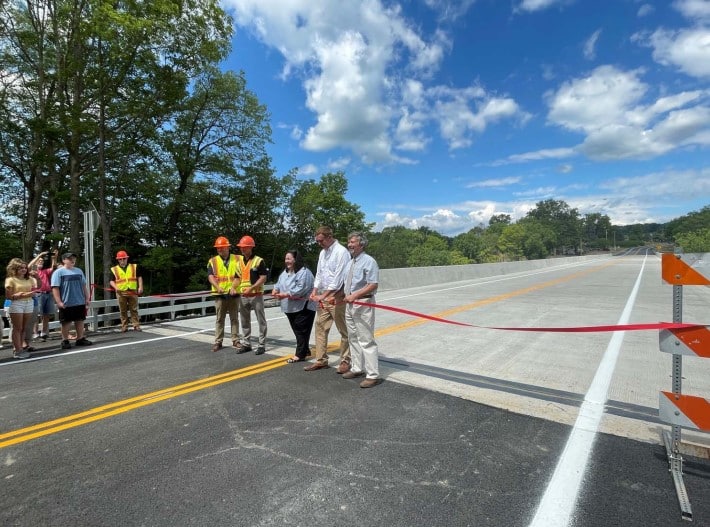 The new bridge spans 500 feet and sits 120 feet above Salmon Creek. Plans to replace the bridge started back in 2010, with construction continuing during the COVID-19 pandemic.
The bridge features eight-foot-wide shoulders to provide room for cars to pull over and better accommodate pedestrians and bicyclists.
State Route 34B runs along the eastern shore of Cayuga Lake and serves as an important part of the Cayuga Lake Wine Trail. It connects the cities of Ithaca and Auburn, running between Cayuga Lake and Owasco Lake.
The bridge utilizes a slanted steel leg design in order to retain some features of the previous structure, which featured arch-shaped support for the bridge.
"This bridge has provided vital connectivity for decades, serving the local community and countless visitors who come to enjoy the natural treasures of the Southern Tier and the Finger Lakes regions," said Hochul.
The bridge carries nearly 7,500 vehicles each day, according to a release.
"It has always been my priority to advocate for state funding to ensure safe roads and bridges in our communities. These investments are essential to the safety of the traveling public and to the economic vitality of the region. Thank you to Commissioner Dominguez and the New York State Department of Transportation, Town of Lansing Supervisor Ed LaVigne and the Town's hardworking crews and employees, Tompkins County, and all those who supported this project," added State Senator Pam Helming.
Assemblymember Anna Kelles said she was thrilled to see the bridge project completed.
"This critical infrastructure project is an important investment in our community, ensuring the safety and improved ease-of-travel for residents and visitors. I am especially pleased that the new bridge features 8-foot wide shoulders to improve safety for pedestrians and cyclists. By supporting sustainable transportation and connectivity in our region, we will increase access to outdoor recreation and support local tourism," she said.
---
---