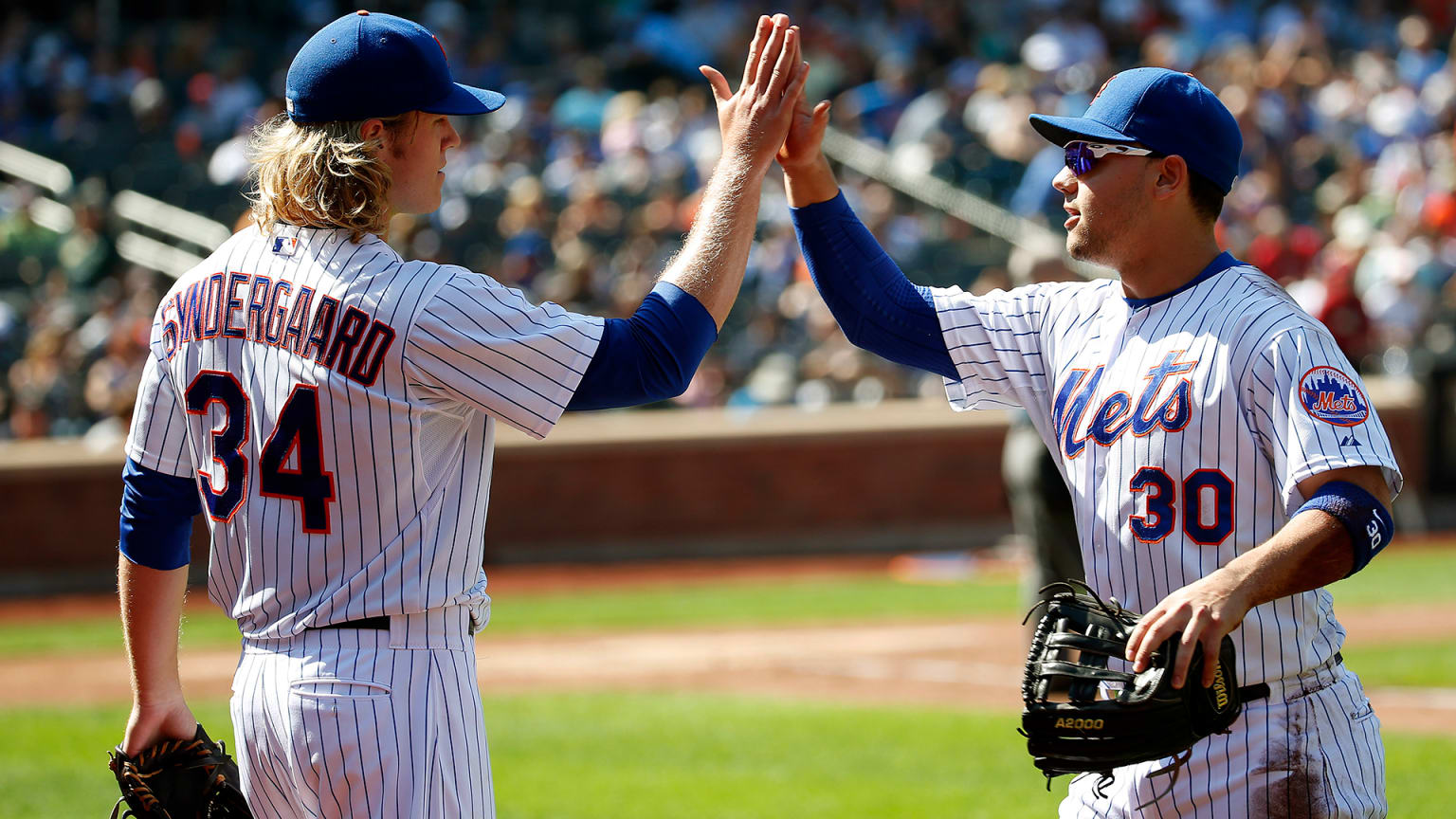 Upon returning from Tommy John surgery in late September, Mets pitcher Noah Syndergaard called the prospect of a qualifying offer "something that I'd be extremely grateful for," and "something that I'm hoping for."
Syndergaard's hopes have now become reality, as the Mets on Saturday extended him and Michael Conforto one-year qualifying offers worth $18.4 million. It's now up to those two to decide whether they want to accept them.
Conforto's situation is relatively straightforward. Although the outfielder is coming off a down year during which he slashed .232/.344/.384 with 14 home runs in 125 games, those numbers improved to .272/.372/.457 with eight homers over the final two months of the season. Industry sources have maintained for months that Conforto is likely to reject the qualifying offer in hopes of earning a bigger payday through free agency. At age 28, he could conceivably even sign a short-term deal and reenter the market in a year or two.
Syndergaard's position is more complicated. Normally, a 29-year-old starter with his skillset and track record would be an obvious candidate to decline the offer, but Syndergaard suffered multiple setbacks in his return from Tommy John surgery and has thrown only two innings over the past two seasons. An $18.4 million, one-year deal would give him an opportunity to prove his health, re-establish his value and re-enter the market next year at age 30. As such, Syndergaard stands a decent chance of accepting his offer.
The last time he was healthy over a full season, Syndergaard went 10-8 with a 4.28 ERA and 202 strikeouts in 32 starts in 2019.
Both Syndergaard and Conforto have 10 days to make their decisions, during which time they can negotiate other deal structures and talk to other teams to gauge their market value. It's possible the Mets could come to an alternative arrangement with Syndergaard, for example, on a multi-year deal with a lower average annual salary.
It's also possible he simply just accepts.
The qualifying offer system, which has been in place since 2012, allows teams to extend offers to their departing free agents worth the average annual salary of the 125 highest-paid players in baseball. If those players subsequently reject their offers, their former teams are entitled to Draft-pick compensation should they sign elsewhere. The Mets would receive a pick after Competitive-Balance Round B if either Conforto or Syndergaard rejects his offer and signs elsewhere.
Conversely, the Mets would lose their second-highest pick, plus $500,000 in international signing pool space, if they ink a free agent who rejected a qualifying offer from another team. They would not lose anything by re-signing Conforto or Syndergaard if they rejected their offers, however, giving them a slightly better chance at a reunion.
The deadline for clubs to extend qualifying offers is Sunday at 5 p.m. ET.

Kyle leads sports coverage and hosts the Concrete Jungle podcast. Have a lead or question? Send it to [email protected].