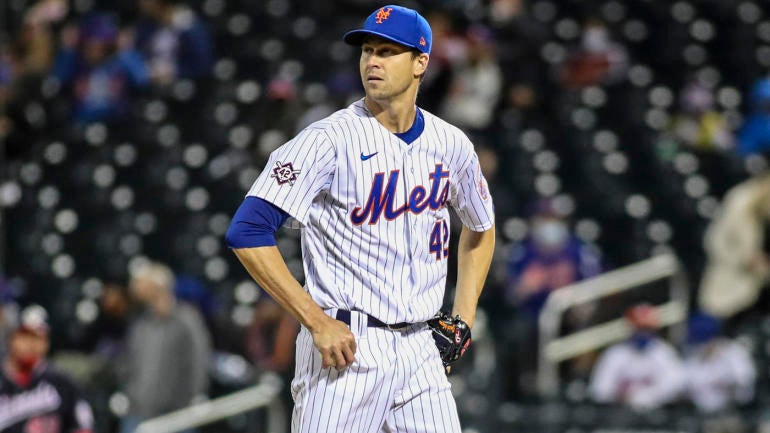 Just a few hours before first pitch of Tuesday's matchup with the St. Louis Cardinals, the Mets announced that Jacob deGrom had been scratched due to "right side tightness."
Reliever Miguel Castro will start in deGrom's place, making Tuesday's game a bullpen effort.
"He let us know earlier today that he had some tightness on his right side," manager Luis Rojas said about deGrom. "I saw him before coming to the field and he was stretching, trying to feel his right side a little bit, and that's when we started discussing whether he was going to start or not.
"We got to the point where he's not, and he's getting further tests right now and we're waiting to see some results."
Earlier this season, deGrom was given an extra day of rest following his April 17 start against Colorado. He responded by throwing a two-hit shutout with 15 strikeouts against the Washington Nationals on April 23.
Rojas later said that there was nothing physically wrong with deGrom, but that they opted to give him the extra day after he threw more pitches than Joey Lucchesi in a doubleheader against Colorado.
Rojas said that deGrom is undergoing an MRI Tuesday, but that this issue has nothing to do with the times deGrom's turn in the rotation was pushed back an extra day, which included him being pushed back a day before what was to be Tuesday's start.
"The times that we pushed him, it's just precautionary, thinking of the long run more than anything, but it's nothing that had to do with this," Rojas said. "This was today and he's built up to further tests now."
Rojas noted that a roster move involving Jordan Yamamoto will likely be announced before first pitch, either to add him to the taxi squad or to have him available out of the bullpen.
"He's on his way here, Yamamoto. As you know, we carry a taxi squad and he could be a part of that or he could be a part of our bullpen tonight," said Rojas. "That's going to take a move, but we've still got to wait on Jake's results from the tests that they're doing with him.
"But that's the plan right now. We used our two multi-inning guys yesterday, and they could probably give us one inning tonight, but we're talking about the innings and the length that we could have from our bullpen tonight, then we'll know if (Yamamoto) will be on (the active roster). We have to make that roster move prior to the game."
DeGrom has been outstanding this season, pitching to a 0.51 ERA and 0.57 WHIP with 59 strikeouts in 35.0 innings.

Kyle leads sports coverage and hosts the Concrete Jungle podcast. Have a lead or question? Send it to [email protected].