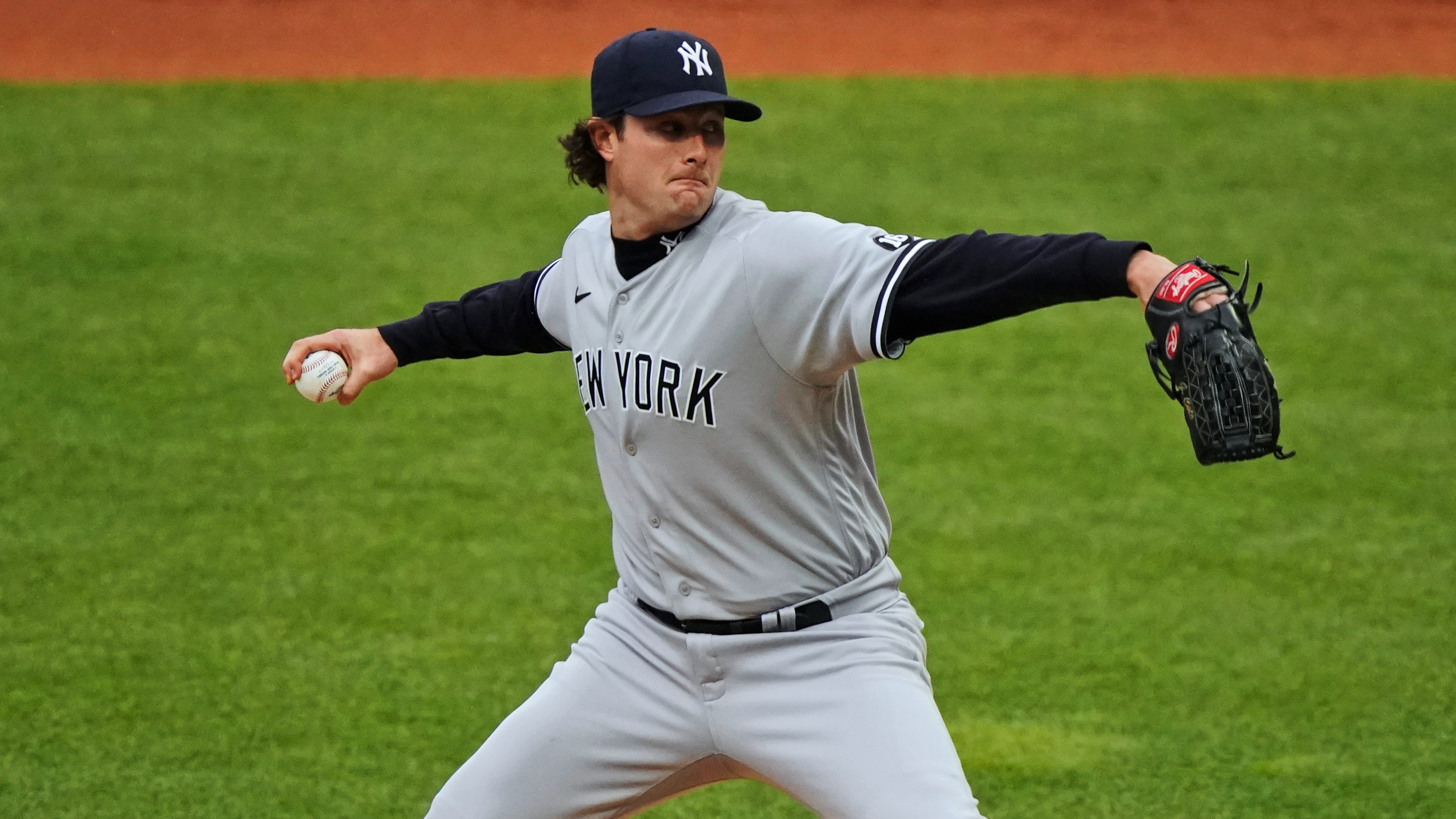 Gerrit Cole and Shane Bieber dueled past sundown on Saturday, achieving the expectations that come when two of the best starters in the Majors meet on the same mound. They combined for 20 strikeouts and only three runs allowed in the Yankees' 2-1 win at Progressive Field.
In an ace vs. ace battle — Cole, a three-time All-Star and perennial Cy Young contender; Bieber, the reigning American League Cy Young Award and Triple Crown winner — Cole was better and stronger. His fastball sizzled into triple digits. His changeup fell away from flailing bats. The Yankees' stoic right-hander finished with 11 strikeouts and no walks in seven innings of one-run ball.
"I thought [Cole] was terrific in a game where we needed him to be really, really good, because we were up against a really good one as well," Yankees manager Aaron Boone said.
Before the game, fellow New York starter (and Cole's former Pirates teammate) Jameson Taillon pondered that Cole, in facing Bieber, might want to turn Saturday into a "statement game" with his performance. Then again, that type of intensity isn't new for him.
"Gerrit's always fiery," Taillon said. "Like we could be playing a Spring Training game against a high school team and Gerrit's going to be ready and he's going to be fired up."
As fired up as he might be on the inside, Cole rarely shows it, opting instead for a business-as-usual demeanor as he mows down the opposition.
Cole has now struck out at least seven batters in 14 consecutive starts, a franchise record. He also raised his season punchout total to 50, the most by a Yankees pitcher through five starts.
Ever the perfectionist, Cole bemoaned the number of times Cleveland batters worked him into deep counts, which is something he said he'd "like to clean up, sooner rather than later." But of the seven times Cole faced a three-ball count, only one batter reached safely. And he struck out four of those batters.
"I think we just made some good pitches when we had to," Cole said.
GAME HIGHLIGHTS:

Kyle leads sports coverage and hosts the Concrete Jungle podcast. Have a lead or question? Send it to [email protected].