Lyons and Clyde-Savannah renewed the Route 31 Rivalry in mostly empty gymnasiums in the boys and girls match-ups on Wednesday night. The Lyons boys rolled to a 16 point win at Clyde-Savannah High School behind 38 points from Justin Smith to move to 2-0 on the young season. One mile to the west at the Atwood Gymnasium, it was the lady Golden Eagles avenging a loss in last year's Class C semifinal with a 3 point win over Lyons.
Also on Wednesday night, Mike Kaufman scored 15 points to lift the Romulus Warriors to a season opening win in Bloomfield, Gananda moved to 2-0 on the season with a 18 point win in North Rose, Williamson notched their 2nd win, and both the East Rochester and NR-Wolcott girls improved to 2-0 to kick off the long awaited 2020-21 season.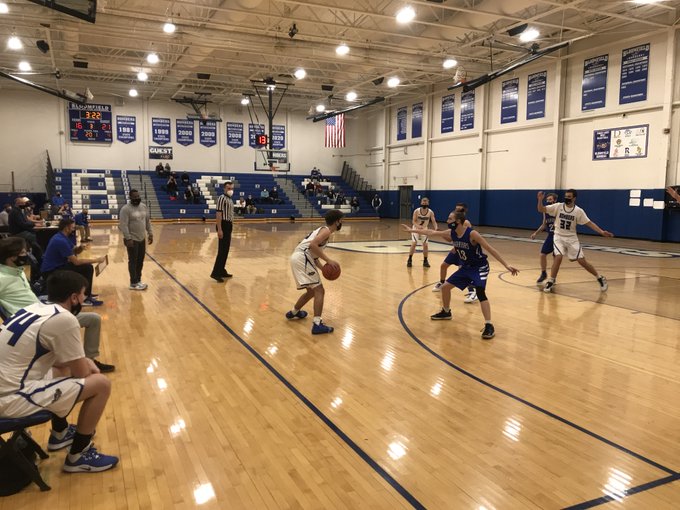 Full results and more from Wednesday night and a huge slate of game scheduled for Thursday night below…
---
W-FL BOYS SCOREBOARD 2/10:
Sodus 46 @ Williamson 52
WIL – Patsy Catalano 19 (5 three's); Troy Ingham 10; Matt DeFisher 9
Lyons 74 @ Clyde-Savannah 58
LYO – Justin Smith 38; Jayden Battle 12; JC Walker 12
CS – Cam Chance 31; Jayden McKinney 16
East Rochester 51 @ Marion 31
MAR – Alex Russell 13, 12 reb; Logan Evans 9
Gananda 61 @ NR-Wolcott 43
Romulus 41 @ Bloomfield 33
ROM – Mike Kaufman 15; Erik Jensen 10; Devon Morrell 7
BLM – Sean Farrell 13, Issac McClelland 9, Cam Smith 7
TONIGHT'S BOYS SCHEDULE:
South Seneca @ Naples – Watch Live
Bloomfield @ HAC – Watch Live
Penn Yan Academy @ Marcus Whitman – Watch Live
Newark @ Geneva – Watch Live
Red Jacket @ Honeoye – Watch Live
Wayne Central @ Waterloo – Watch Live
Palmyra-Macedon @ Mynderse Academy – Watch Live
---
W-FL GIRLS SCOREBOARD 2/10:
Clyde-Savannah 49 @ Lyons 46
CS – Jaida Larsen 16; Aslyn Rattray 14; Kylie Paylor 11
LYO – Jayla Bell 16, 9 reb; Caitlyn McDonald 8, 9 reb; Alicia Morrison 7, 11 reb
Red Creek 35 @ East Rochester 56
RC – Jessie Bolton 12; Mackenzie Ferguson 9; Riley Shaffer 7, 6 reb
ER – Lily Funk 20; Zoe Zutes 12, 10 reb; Nevaeh Johnson 8; Samantha Lewis 8, 6 ast
Wayne Central 28 @ Geneva 21
WYN – Riley Simpson 13; Aaliyah Zenelovic 10, 10 reb; Sidnee Burlee 11 reb
Bloomfield 45 @ Romulus 27
BLM – Ava Hawkins 17; Sydney Roach 10
NR-Wolcott 52 @ Gananda 42
Williamson 44 @ Sodus 39
TONIGHT GIRLS SCHEDULE:
HAC @ Bloomfield – Watch Live
Honeoye @ Red Jacket – Watch Live
Dundee @ Marcus Whitman – Watch Live
Naples @ South Seneca – Watch Live
Midlakes @ Penn Yan Academy – Watch Live
Geneva @ Newark – Watch Live
Waterloo @ Wayne Central – Watch Live
Mynderse Academy @ Palmyra-Macedon – Watch Live
---
Our award winning coverage of W-FL High School Basketball is made possible through the support of:
---
FL1 SPORTS GAME NIGHT LIVE WEBCAST 2/10:
---
Section V released information on plans for the rest of the academic year in area HS Sports on Wednesday evening…
Section V Athletic Council Finalizes Winter High-Risk Sports Tournament Structure and Fall II Sports Important Dates
On Wednesday, February 10, 2021 the Section V Athletic Council met and determined the tournament structure for winter high-risk sports. The team sports of boys basketball, girls basketball, and ice hockey will have a closed sectional tournament in which only the top eight teams in each classification will make their sectional tournament. Wrestling will hold class sectional tournaments starting on March 12, 2021.
The Fall II Sports Season (which includes boys volleyball, competitive cheerleading, football, and girls volleyball) will begin on March 1, 2021 and the regular season will end on April 23, 2021. Sectionals must be completed by May 2, 2021.
The start date for the Spring Sports Season (which includes baseball, boys golf, boys lacrosse, boys tennis, girls lacrosse, softball, and track & field) is April 19, 2021. We will continue to be sensitive to spring sports that already missed a complete season and sectional/state championships last year due to the pandemic.
Indoor Track & Field is now looking to host a sectional tournament starting on Thursday, March 4, 2021.
---
AROUND THE W-FL & SECTION V:
"Any win at this time with everything we've all been up against is a good win. A lot of us did not get to play for the last year. We're all pretty much new again even though we have a little more experience." https://t.co/GfrCfk4MWw

— Paul Gotham (@PickinSplinters) February 11, 2021
That @Bombers_Sports girls team is on ???? @ZoeZutes @SammLewis8 @PaulinaHopeLex2 ❤️❤️ thank you! @PrimetimeBall_ https://t.co/dokDRXOnzA

— big lex (@jlex15) February 11, 2021
Red Creek girls getting ready to open up their season at E.R. pic.twitter.com/wGK8uvQa6O

— David Welcher (@CoachWelcher) February 11, 2021
An all-boys basketball night is in the books around the area tonight.
Among the highlights, Spencer Cook hits a game-winning shot with seconds left to give Andover the win over Friendship, and Wellsville regroups after their loss to Hornell with a big win at B-R. #SectionV pic.twitter.com/K1Sec3XR3p

— Chris Brooks (@iAmBrooksie) February 11, 2021
PHOTOS: Batavia vs. Eastridge 2-9-21
via the complete album here: https://t.co/vwRGSISdcx pic.twitter.com/3nn9W6y5P7

— Stephen Ognibene (@stephenognibene) February 11, 2021
From the Alfred-Almond/Hammondsport game, Kevin Dunning scored 19 points and Jonas Kays added 14. Cooper Watson led Hammondsport with 15 points.

— Bill Collmer (@BC_SVTB) February 11, 2021
Varsity Boys Basketball host Romulus. #gobombers #buildingcommunity pic.twitter.com/WONfMxdYVg

— Bloomfield Bombers (@goBCSbombers) February 11, 2021
GIRLS VARSITY BASKETBALL DEFEATS RED CREEK 56-34‼️Sophomore Lily F. leads the team with 20 points to improve them to 2-0?#BomberNation ?

— Bomber Athletics (@Bombers_Sports) February 11, 2021
Tonight's game story as Aquinas grabs bragging rights over Bishop Kearney: https://t.co/14I3DJKegS @PickinSplinters

— Chuckie Maggio (@chuckiemaggio) February 11, 2021
---
Our coverage of W-FL High School Basketball is also supported by the following local businesses:
---

This content is brought to you by the FingerLakes1.com Team. Support our mission by visiting www.patreon.com/fl1 or learn how you send us your local content here.