Cayuga Community College leaders honored the Class of 2019 on Sunday, congratulating graduates for their achievements and urging them to continue working hard to reach their goals.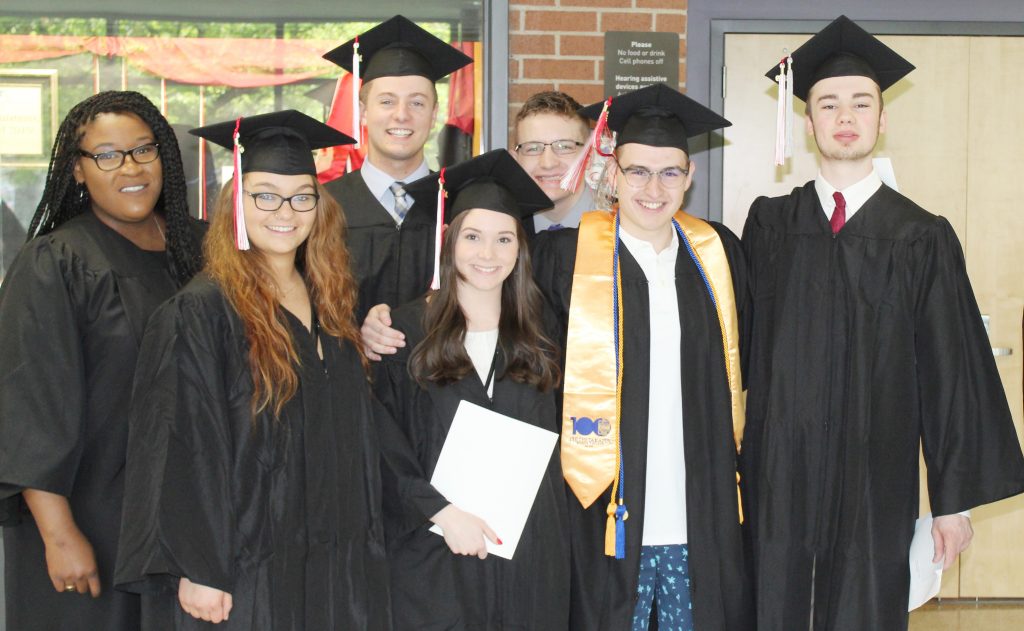 Family and friends joined Cayuga's faculty and staff in applauding the 561 members of the Class of 2019 for earning their associate's degrees or certificates. The May 19, 2019, ceremony marked Cayuga's 65th annual Commencement.
College leaders praised students for their accomplishments and dedication, and encouraged the graduates to continue demonstrating that same level of determination as they joined the workforce or transferred to continue their education.
Cayuga President Dr. Brian Durant told students that they have incredible potential, and that they should not place limits on themselves and what they can achieve.
"The pursuit of this degree was an investment in yourself. In your future. You understood that no future is successful without investing your time, energy and effort. You had the dedication to pour those three ingredients into your journey at Cayuga, and the confidence that the investment would bear fruit. Here, in this tremendous moment, everyone can see that you were right. Your investment paid off," he said.
Cayuga Board of Trustees Chair Dr. Linda Van Buskirk encouraged students to continue learning throughout their lives, and to build on what they studied at Cayuga as they move forward.
"Each one of you has learned new ideas and new skills. You have grown as individuals. We hope and trust that you have built a firm foundation for further growth through your time at Cayuga," she said. "With the knowledge you have gained, you will continue to develop your individual identities, broaden your vision, and sharpen your goals."
Students Autumn Brewer, who earned her Associate of Applied Science Degree in Media Production, and David O'Brien, who earned his Associate of Applied Science Degree in Occupational Therapy Assistant, thanked Cayuga's staff and faculty for their dedication to the graduating class.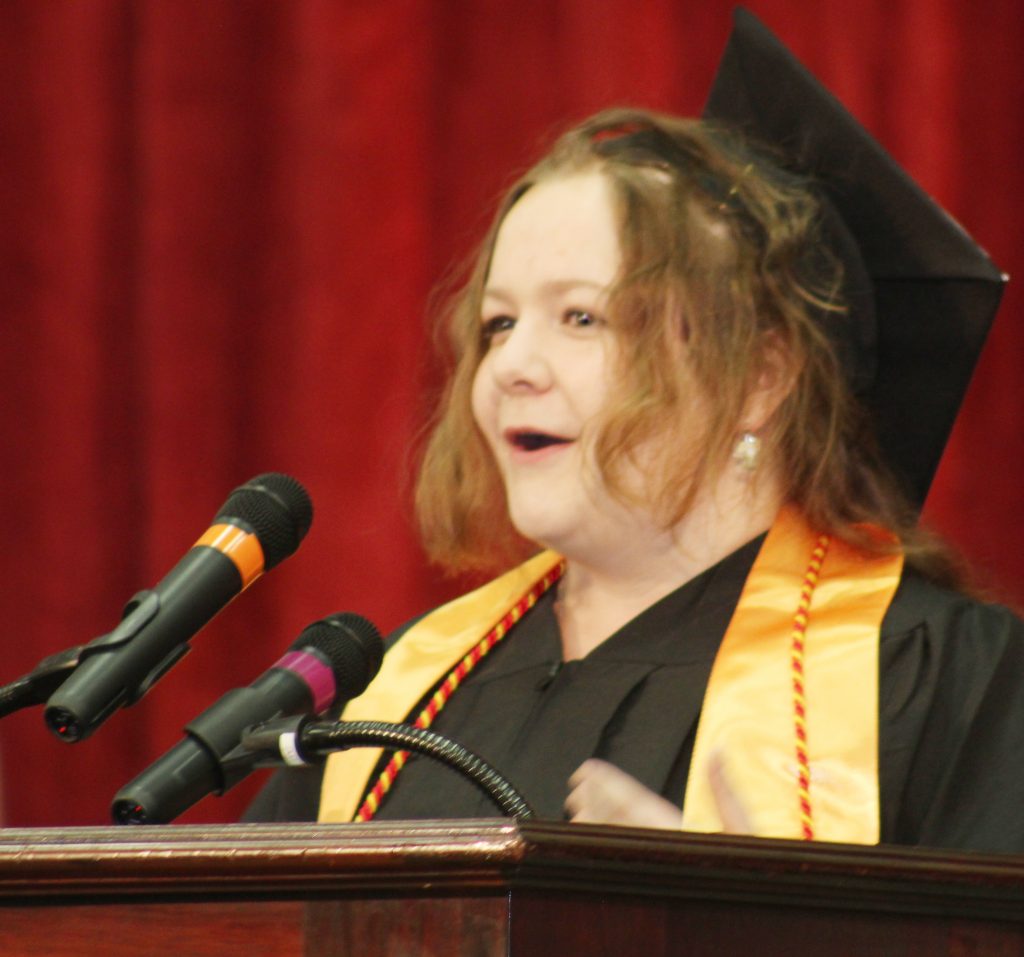 Brewer urged students to enjoy their accomplishments, and to think about the present moment, rather than reliving times in the past or anticipating the future.
"We are bombarded with the uncertainty of the future. Most of us are so young, though, and I don't want to think I spent my twenties only worrying about my thirties," said Brewer. "We are all going to end up somewhere. That's just a fact. We are going to fail. We are going to succeed. We will be depressed. We will be happy. Nothing will go as planned, and we need to be happy about it, because how boring is a life without curves?"
O'Brien called on students to thank the family, friends, faculty and staff who helped them reach Commencement, pointing out that no one earned their degree on their own. He reminded graduates they can learn more about themselves when they face adversity, and that they should be grateful when other people have faith in their potential.
"Gratitude is easy to display when your mom and dad bought you a new Xbox, but it is harder when someone shows you that they will not give up on you. Hardest yet is showing gratitude in the face of adversity," he said. "I have had many highs and lows in my life. I always appreciate the highs, but I can only improve when I am grateful for the lessons learned from the lows."
Commencement also saw several students, staff and faculty honored for their accomplishments.
Class Marshals Anthony Christian and Mikaela Klinger were honored for receiving the Chancellor's Award for Student Excellence, and Professor Dr. Maryanne Felter and Professor Agnes Crothers were celebrated for earning Professor Emeritus status.
Three Cayuga faculty and staff members were honored for receiving the Chancellor's Award for Excellence. Associate Professor Melissa Johnson earned the Chancellor's Award for Excellence in Teaching, Campus Police Lt. Ralph Stacy Jr. for Excellence in Classified Service and Webmaster Adam Williams for Excellence in Professional Service.
---
To have the latest updates, information, and headlines delivered to your smartphone or tablet – download the FingerLakes1.com App for Android and iOS. Follow the links below to download the app now! – Android (All Android Devices) – iOS (iPhone, iPad)

This content is brought to you by the FingerLakes1.com Team. Support our mission by visiting www.patreon.com/fl1 or learn how you send us your local content here.