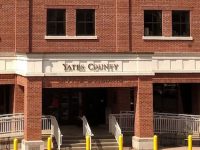 The Yates County Legislature voted this week to allow Sheriff Ron Spike to assign a security officer to the county office building. Legislator Carlie Chilson voted against the measure, saying it would create overtime hours ...
more
Yates County Sheriff Ron Spike has announced the temporary suspension of visitation at the Yates County Jail, to contain the potential spread of COVID-19. Jail visitation has been stopped previously during the pandemic, once in ...
more
Two major cases involving fatalities and serious injuries could be heard by a grand jury in Yates County. That was the update from Sheriff Ron Spike, who recently addressed the status of two serious incidents ...
more