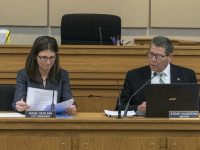 Mayor Steve Valentino was absent from the October 6, 2021, Geneva City Council meeting. The meeting was led by Deputy Mayor Bill Pealer (Ward 2). Council was supposed to hold a work session on October ...
more
Geneva City Council held its September meeting on September 1, 2021. Council moved the meeting from the Geneva Public Safety Center to Jordan Hall at the Cornell AgriTech Campus. Council spent most of its time ...
more
Protests at June Geneva Council Work Session Impact July Meeting, Geneva Council Divisions Widen, Salamendra Says City Employees Should Celebrate Juneteenth With "Anti-Racist" Training, And Geneva Refuses To Make Public Letter Read At Council Meeting ...
more
Staffing issues took center stage at a work session for Geneva City Council- as a presentation by GPD Chief Michael Passalacqua led to a contentious exchange between council members. Less than an hour into the ...
more
During Geneva City Council's Wednesday, June 2 meeting, Council spent a large portion of the meeting considering appointments to the Geneva Police Review Board (PRB). Despite interviewing well over 40 applicants and holding around 10 ...
more
On Wednesday Geneva City Council's divisions continued to be evident as they considered resolutions to Censure Councilor Laura Salamendra (Ward 5) and remove City Attorney Emil Bove, Jr. from participating in police reform and police ...
more
Geneva City Council held a special meeting Wednesday, March 24 during which they approved the City of Geneva Police Reform and Reinvention Plan. The Council also set a schedule for interviewing candidates for the Geneva ...
more
At the Wednesday, March 3 meeting of Geneva City Council members heard an Ethics Board Complaint filed against Councilor Laura Salamendra (Ward 5) related to her actions at a Sunday, July 19, 2020, Back The ...
more
Geneva United is planning to present a Petition to Geneva City Clerk Lori Guinan  Thursday, March 4, 2021, at about 11:30 a.m. The Petition calls on the City of Geneva to put the recently passed ...
more
On Wednesday Geneva City Council took action to increase winter parking violation fines, heard another ethics violation complaint against Councilor Laura Salamendra (Ward 5), and established a registry for vacant and abandoned properties. In other ...
more
Geneva City Council met for well over 6 hours this week in a pair of sessions. The first was a 'work session', which was held on Monday, and the second was a full-meeting held Wednesday ...
more
Laura Salamendra is challenging for a seat on Geneva's City Council to represent Ward 5 come January 1st, 2020.  Salamendra is an activist with the Geneva Women's Assembly, a former board member with We are ...
more