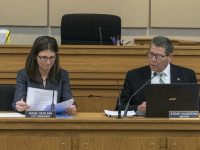 Mayor Steve Valentino was absent from the October 6, 2021, Geneva City Council meeting. The meeting was led by Deputy Mayor Bill Pealer (Ward 2). Council was supposed to hold a work session on October ...
more
Geneva City Council held its September meeting on September 1, 2021. Council moved the meeting from the Geneva Public Safety Center to Jordan Hall at the Cornell AgriTech Campus. Council spent most of its time ...
more
The July Work Session held by Geneva City Council marked the return to its normal meeting location at the Geneva Public Safety Center. Mayor Steve Valentino, Councilor Laura Salamendra (Ward 5), and Councilor William Pealer ...
more
Protests at June Geneva Council Work Session Impact July Meeting, Geneva Council Divisions Widen, Salamendra Says City Employees Should Celebrate Juneteenth With "Anti-Racist" Training, And Geneva Refuses To Make Public Letter Read At Council Meeting ...
more
Geneva City Council held its monthly meeting Wednesday at Hobart and William Smith Colleges. Public attendance was limited to 20 individuals due to COVID-19 restriction. Most City residents could only observe the proceedings via the ...
more
On Wednesday Geneva City Council's divisions continued to be evident as they considered resolutions to Censure Councilor Laura Salamendra (Ward 5) and remove City Attorney Emil Bove, Jr. from participating in police reform and police ...
more
Geneva City Council held a special meeting Wednesday, March 24 during which they approved the City of Geneva Police Reform and Reinvention Plan. The Council also set a schedule for interviewing candidates for the Geneva ...
more
Geneva City Manager Sage Gerling and Assistant City Manager Adam Blowers presented the City's annual State of the City address Wednesday, February 10. Gerling and Blowers presented an upbeat message that focused on the City's ...
more
During Thursday's Geneva City Council meeting Councilor Ken Camera (Ward 4) appeared to disclose potentially confidential personnel information during a live public meeting that was airing on YouTube. Towards the end of the meeting, the ...
more