AY.4.2 raised concern upon its discovery in the U.K. after it started making up a large number of new cases. Originally it was only 4% of new cases, but as recently as Oct. 9 it ...
more
While there are numerous strains of the Coronavirus floating around, a few have become well known. Here are the most common variants and everything you need to know about them Alpha Variant The Alpha Variant ...
more
The Delta Plus variant that caught the attention of researchers and officials in the U.K. has officially been spotted in Massachusetts. It's in other states as well. Since late spring the virus has been almost ...
more
Researchers are preparing for a future pandemic after the havoc wreaked by the COVID-19 pandemic. Scientists in Japan are working on vaccines, and they may have created a "super" vaccine the protects against up to ...
more
The United Kingdom has seen a variant spreading that appears to have stemmed from the Delta Variant. This strain is called AY.4.2 and makes up 6% of newly reported cases from the week of Sept ...
more
Some experts are left wondering why, with a booster shot available, they aren't being made to create protection from the newer, stronger, and deadlier versions of the virus. The FDA doesn't see a need to ...
more
A new study is looking into how some people can completely fight off and evade COVID-19 while others can't. Researchers have discovered that some people can completely block a mutated strain from infecting their bodies ...
more
A new strain of COVID-19 was discovered in the United States, this one in Louisiana. The variant, called B.1.630, was found in two samples from Baton Rouge. Experts say there is no reason to be ...
more
A new study released found that a person is the most likely to spread the virus two days before their symptoms appear and three days after. The study looked at 9,000 people who were in ...
more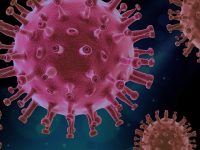 At this point in the pandemic, the variants have proven to be stronger, deadlier, and more transmissible than the original strain of COVID-19. A new study shows that the new variants have a higher chance ...
more
A new drug combination has proven promising against serious symptoms of COVID. The combination is nafamostat and Pegasys already meets availability and efficacy requirements. The drugs seems to stop COVID infections before they spread in ...
more
One expert says COVID and its variants will only continue to thrive and mutate until the entire world is vaccinated. Dr. Vidya Mony, the pediatric infectious diseases specialist at Santa Clara Valley Medical Center in ...
more
No new cases of the Mu strain of COVID have been reported recently, something scientists worried about months ago when they flagged the mutation to keep an eye on it. The strain was expected to ...
more
The newest COVID-19 variant is called A.23.1 and it's been located in Africa, but experts are worried it's a preview for what's to come in variants. What is it? The first time this strain was ...
more