Category:
Service/non-profit

The Krossin' Keuka fundraising swim for the Keuka Comfort Care Home on July 30 is looking for volunteer canoe and kayak paddlers to help keep the swimmers safe. Keuka Comfort Care Home Director Donna Nielsen tells us about the mission of the ...
MORE

In this episode, we visit with Donna Neilsen, Director of the Keuka Comfort Care Home about Krossin' Keuka, the annual swim across Keuka Lake that serves as the main fundraiser for the home. Krossin' Keuka has 200 swimmers, middle school age or ...
MORE

In this episode, we visit McDonough Park in Geneva for "Take Your Role Model to the Game" night. The purpose of the evening was to allow kids to honor their role models by watching a ballgame with them and meeting new ones ...
MORE
In this episode, we talk with Sarah Heieck, organizer of the Geneva Half Marathon, which begins at 8 a.m. on August 14 at the Visitors Center on the Seneca Lakefront. The event is a family affair, run by Sarah, her husband Eric, ...
MORE
New York's emerging filmmakers will have a chance to screen their films at the Second Annual Cayuga Film Festival this October. Submissions now are open for documentaries, experimental, fiction and animated films from high school students, college students and emerging filmmakers of ...
MORE
A turn onto Rachel Carson Way in the Town of Ithaca leads to a community unlike any other in the Finger Lakes. The charm of EcoVillage presents itself at once. To your left is a field of giant solar panels and a ...
MORE
Seneca County will unveil two new roadside historical markers in the coming weeks. The first dedication will take place on Saturday, May 14 at 1 p.m. at the Fayette Volunteer Fire Department. The marker will be placed at the birthplace of Robert ...
MORE
The Pont de Rennes Bridge in Rochester's High Falls neighborhood is being shut down today for the first-ever Drink Like a Girl Bridgefest. Organizer Kelly Guilfoyle says she's not sure anyone has taken over a bridge before, and she tells us about ...
MORE
Volunteers will spend their weekend cleaning up trails along the Erie Canal ahead of New York's canal system opening on May 22. The 17th annual Canal Clean Sweep will begin on Friday, April 22 and end on Sunday, April 24. Over 100 ...
MORE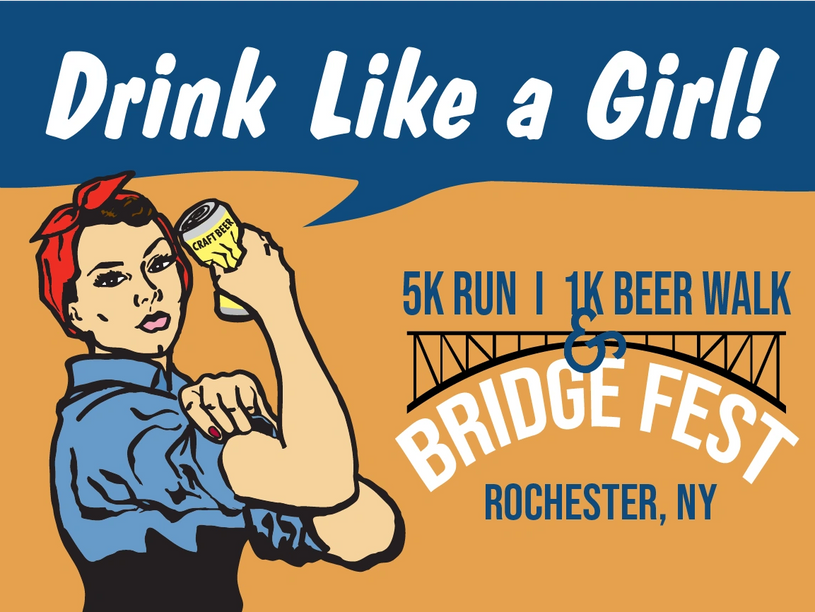 In this episode, we talk with Kelly Guilfoyle, founder of Drink Like a Girl, an organization that empowers women and celebrates women in the brewing industry. Drink Like a Girl is holding its first-ever Bridgefest April 30 in the High Falls district ...
MORE
Another sign of our return to normalcy following the COVID-19 pandemic. After two years off, the annual Hoopes Park Easter Egg hunt returns to Auburn Saturday. Held for the past 70 years, the hunt was in danger of ending for good. The ...
MORE
The Keuka Arts Festival is looking to up the number of artists and vendors at this year's 14th annual event in Penn Yan. Over 80 artists and artisans are typically accepted for the festival, which is held the second week of June, ...
MORE
The Boys & Girls Club of Geneva and FoodLink of Rochester will host a free food distribution event at 11 a.m. on Tuesday, March 29 in Canandaigua. The event will be held at the Greater Canandaigua Civic Center located at 250 N ...
MORE
Moondog's Lounge in Auburn celebrates seven years in business this July. Since the downtown music venue opened in 2015, owner Lynn Varley has been committed to serving up the best local beers, Finger Lakes wines, and of course, the most jammin' rock, ...
MORE
Ithaca's annual Polar Plunge event will return to Taughannock Falls State Park this weekend after a two-year hiatus. The community fundraiser is happening this Saturday, March 26 at the Trumansburg state park. Registration will begin at 10 a.m. with series of five-minute ...
MORE
LOAD MORE POSTS