What's the point in having lots of outdoor space if you don't make the most of it? When you have plenty of yard space but you're not really using it, it might as well not be there. You look out at it every day and maybe picture what you'd like to be there, but you still don't do anything with it. Instead of dreaming about what it could be, why not make it happen? You don't even need to spend a lot of money or hire professionals to do it. If you're handy or you're willing to pick up a few DIY skills you could create a relaxing outdoor living space yourself.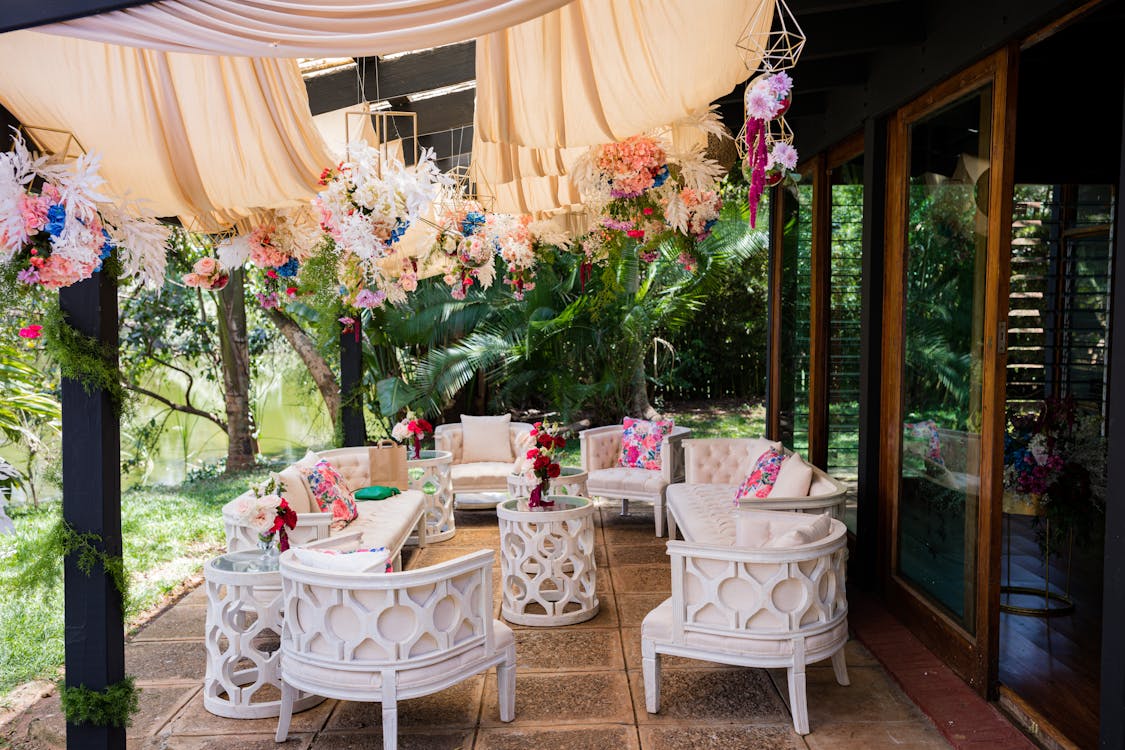 Measure and Plan Out Your Space
You don't want to start doing any DIY or work on your home without accurate measurements. Eyeballing how much space you have just isn't going to work out, so start by getting out your tape measure. Measure everything a few times to make sure it's super accurate so you can begin from the best place. Once you've got some measurements, you can think about exactly how you want to use the space. It doesn't matter how big or small it is. You can design an outdoor living area that does everything you want it to do.
Consider Different Zones
Knowing what to do with the space you have can be tricky, but one way to create a more solid plan is to think about different zones. Splitting the space into areas designed for various purposes means that none of it goes to waste. One zone might be cooking, while another is for eating and another is just for sitting and socialising. Maybe you want to leave space for your kids to play or you want an area for your dog or other pets. Creating different zones also means you can complete one at a time, making your project more manageable.
Build a Beautiful Deck or Patio
It makes sense to do things from the ground up. So one of the first features you might consider is a deck or patio, which you can then use to place some of your other must-haves. Both decks and patios are great options or you might also want to choose a porch or veranda. These features can be surprisingly easy to DIY, especially if you already have a bit of experience and knowledge.
There are multiple materials to choose from, which all have their own advantages. If you visit local DIY and supply stores, you can explore the materials and systems they have for installing your own deck or patio. Instead of wooden decking, you might want to consider metal decking. It's long-lasting and has a great modern aesthetic.
Create Shelter in Your Garden
The main benefit of an outdoor living space is you get to enjoy the outdoors. But that can also be a drawback because you're exposed to the elements. Even if it's not raining, snowing, or windy, you could have harsh sunshine to deal with. So adding some sort of shelter to your outdoor space is a pretty solid idea. If you're mostly planning to use it on sunny days, you'll want something to keep the strong sun off your garden. There are lots of options that could work for you, from parasols to awnings.
But if you're thinking about protecting the space from wind and rain so you can use it even when the weather isn't perfect, you might need something more solid. A more permanent structure could work, whether it's a roof extending from the back of your house or something like a gazebo.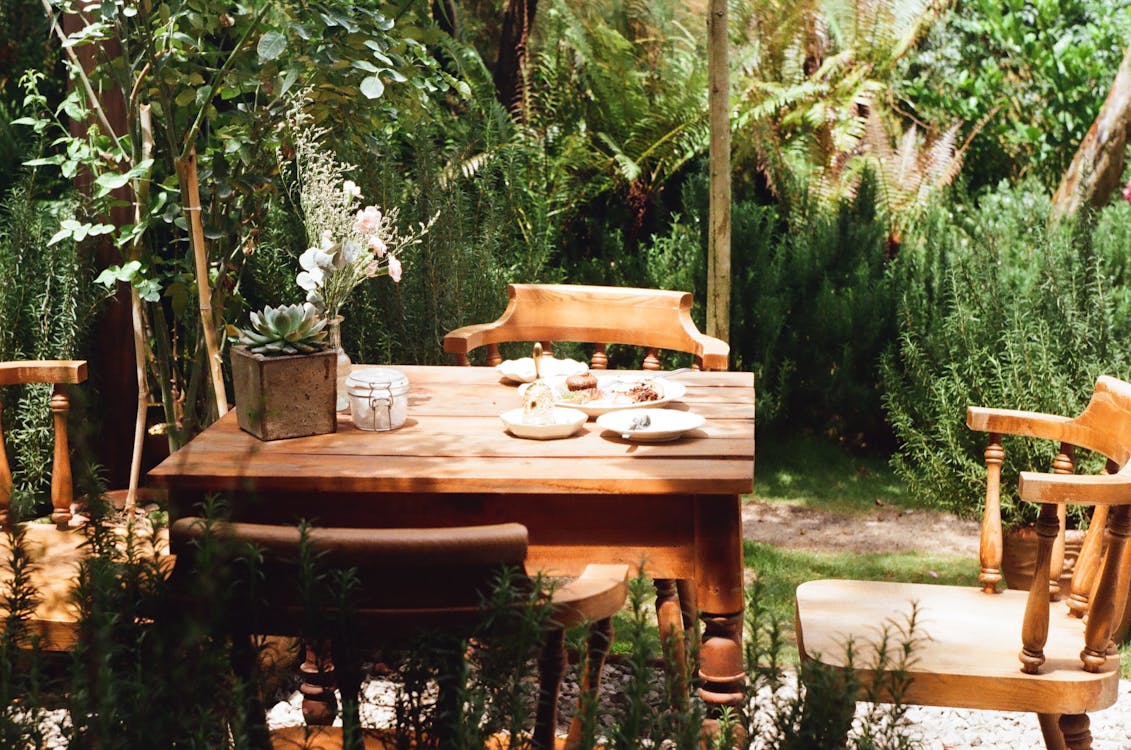 Get Creative with Materials
If you're going to DIY your outdoor living space, you might be looking for ways to save money and get creative. Exploring different materials is a fun way to do something unique and find interesting ideas. Wooden pallets are a classic example of something you can recycle into lots of different things. They can become seating, tables, planters and plenty of other things. You can make use of all kinds of materials, whether you source them from somewhere or just find them around your home. If you want to be sustainable, see if you can find recycled or reclaimed materials that you can put to use.
Set Up Some Comfortable Seating
If there's one thing any outdoor living space needs, it's somewhere comfy to sit. It wouldn't be much of a relaxing space if everyone had to stand up all the time. Outdoor seating can be anything from squishy sofas to porch swings or arbours. And you don't have to limit yourself to just one place to sit. Think about how you want to use the space and how many people might be using it. You could have a combination of social spots to chat and more solitary places to sit and get some peace and quiet. Building some seating might be an option if you want to do some basic carpentry and create benches or something similar.
It's not just about the seating itself but also how you place it and what else might be nearby. If you want a comfortable seating area for social gatherings, you might put it around a fire pit. Building your own fire pit is something you have to be careful doing. It needs to be built safely to prevent any accidents. Make sure you do your research before you build one yourself.
Think about the space you have available when planning your seating. If large sofas are going to take up too much space, you might want to think about seating that's more compact and easily moved. It would make it easier to put away anything you're not currently using or store things away in the winter.
Consider Cooking Outdoors
An outdoor cooking space could be another great idea. But if you're choosing the DIY route, you might have to think carefully about how to go about it. The easiest outdoor cooking option is obviously a barbecue. It's pretty easy to set one up wherever you might want it. But there could be some other ideas you want to consider. Building a permanent barbecue could be an option too, and it might only require some bricks and a few other materials. Of course, you could look at other outdoor cooking options. But this often means wiring up appliances such as ovens, which might not be very practical. Not to mention, it's not very DIY friendly.
You might also consider a space for making drinks. An outdoor bar definitely isn't a must-have, but it can be a fun addition to your garden.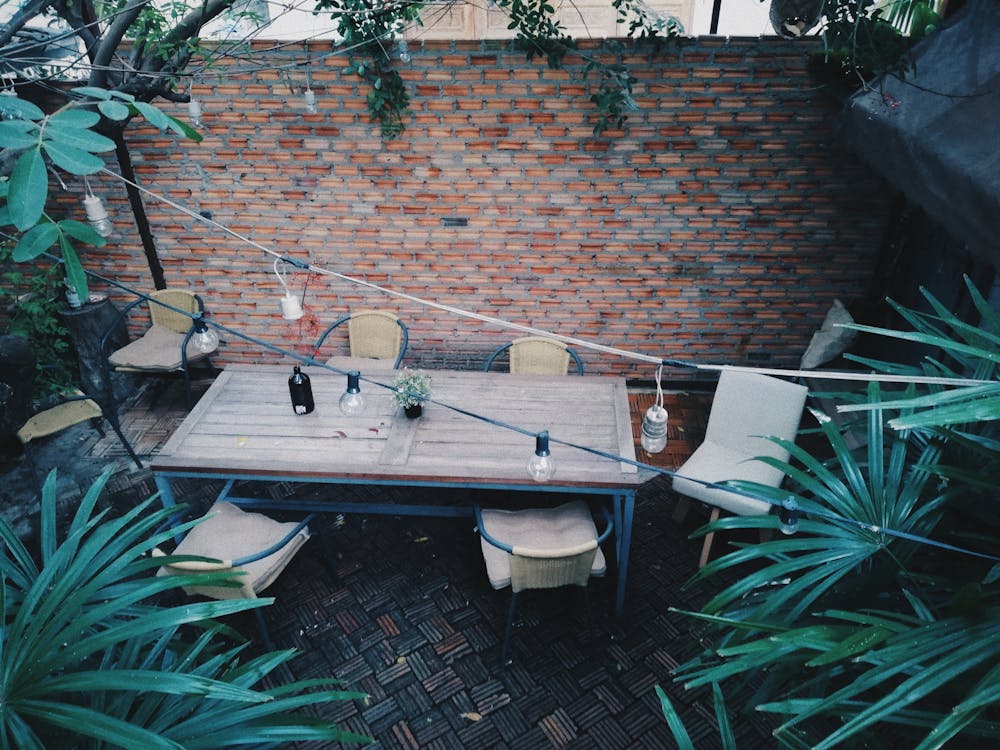 Set Up Somewhere to Dine
As well as seating for relaxation, you probably want somewhere just a tiny bit more formal for eating. A dining table and chairs will give you somewhere you can sit outside and eat, as well as drink. It's especially useful if you're thinking of setting up an outdoor cooking area. Whether you're planning on cooking inside or outside, it makes sense for your dining area to be nearby. It will make it easier to carry food and drink back and forth if there's a clear path between the two stations.
Like your other seating, you might want to think about the space you have and whether you need to be able to move it around. Some outdoor furniture can be folded away or stacked up when you're not using it. This could allow you to use the space for other purposes when you need to.
String Up Some Lights
If you're DIY-ing your outdoor space, you're probably not going to want to wire in any lights. Fortunately, there are plenty of lights that are perfect for using outside that won't require any of that. You can use solar-powered lights or maybe battery-powered lights to keep everything well-lit as the sun goes down. As well as creating a nice atmosphere, it's good for improving security. String lights are a handy option because you can hang them pretty much anywhere. Put them over a bush or in a tree, or install some simple screw hooks that you can hook the lights onto.
Other light styles are available too, like stake lights that you can drive into the ground. You can put lights on various surfaces too, and even make use of candles or torches when you're outside.
Add Accessories
Accessorising your outdoor space can turn it from a plain garden to a special living area. You can really give it some personality and make it your style. There are all kinds of accessories you might add, from soft furnishings like cushions and blankets to potted plants, candle holders, table settings, and much more. Get inspiration from magazines or websites that show you ideas for outdoor living spaces and how you can spruce them up. Think about what types of accessories can be left outside too, and which ones might require storage for wetter or windier days.
Turn your garden into the perfect outdoor space with a few DIY touches. You don't have to do a lot of work to create a space you can be proud of.

This content is brought to you by the FingerLakes1.com Team. Support our mission by visiting www.patreon.com/fl1 or learn how you send us your local content here.