Much of the Finger Lakes, Central New York, Southern Tier, and Western New York are approaching – or will reach peak fall foliage in the next 2-5 days.
The fall foliage report released by ILoveNY on Wednesday pointed to this weekend as the 'peak' for many regions across Upstate New York. However, the weather on Thursday could dramatically reduce the number of leaves that remain on trees.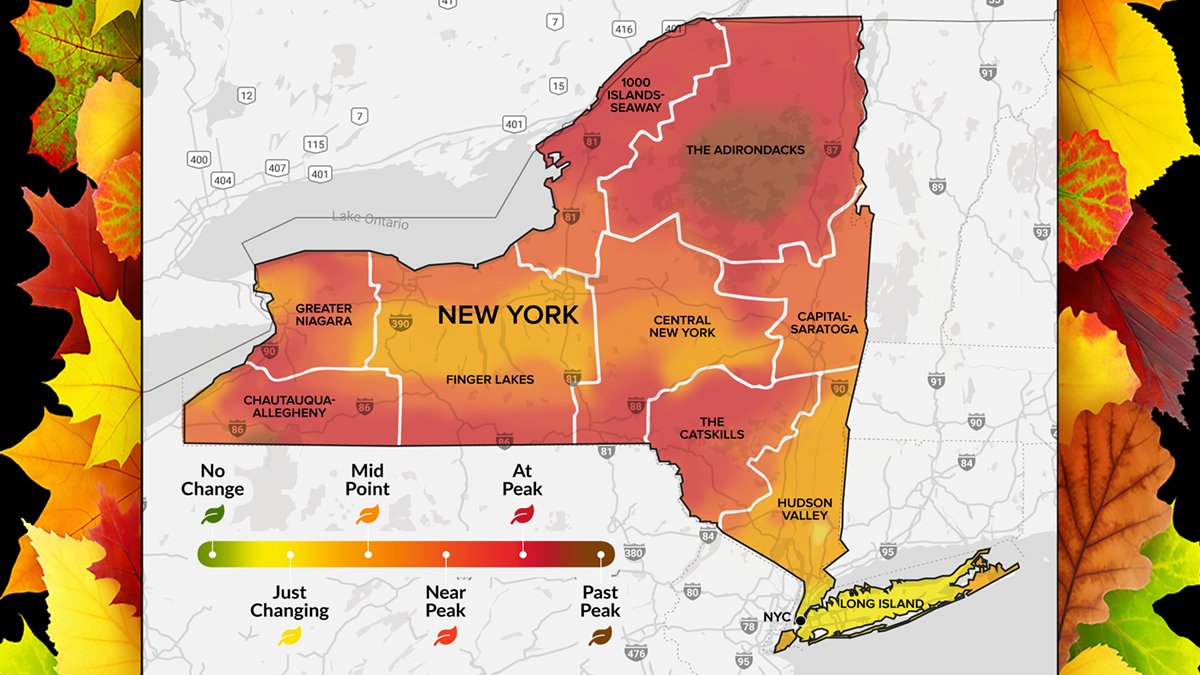 Heavy rain and gusty winds are expected. Then, significantly colder temperatures. It's safe to say that between the forecast and foliage report – any leaves that remain by Friday will surely be ripe for an awesome transition in the subsequent 3-5 days.
What's being reported around the region?
In the Finger Lakes, foliage will be 75% changed and peak this weekend in Elmira with bright yellows and greens, along with emerging shades of orange and red. Peak foliage will also arrive in Steuben County, according to spotters in Corning, Hammondsport, and Hornell, who predict 90% change and bright to brilliant fall colors. In Tioga County, spotters in Owego predict peak foliage this weekend with 75% transition and bright yellow and green leaves, along with some oranges and reds.
In Monroe County, spotters in the town of Greece note that foliage change is accelerating and that leaves will be near-peak this weekend, with 65% transition and an increasingly vivid blend of green, red, and yellow leaves, with less color change in areas closer to Lake Ontario. In Livingston County, Geneseo observers expect foliage will be near-peak with 70% change and a nice mix of bright golds and yellows. Most of Tompkins County will be near-peak, according to spotters in Ithaca, with varying shades of red, orange, and yellow, and some green in areas near to Cayuga Lake. Foliage should approach near-peak conditions in Yates County near Penn Yan, with 50% transition and average shades of yellow highlighted by pops of red and orange. Higher elevations of the county have significantly more changed foliage.
In Cayuga County, spotters in Auburn predict 50% change with red and yellow leaves of average brilliance, while Fair Haven should see 35-50% color transition, and average to bright gold, orange, and yellow leaves. Foliage is expected to be at midpoint of change in Cortland County around Downtown Cortland, with 50% change and average to bright seasonal shades. Onondaga County spotters reporting from Pratts Falls in Manilus and Syracuse predict midpoint to near-peak foliage this weekend as color change is accelerating, with 45% or more color change with bright autumnal hues.
In Ontario County, spotters between Naples and Victor predict midpoint to near-peak foliage this weekend with 60% color change and a bright mix of reds, yellows, greens, and oranges. Reporting from Marcus Whitman Middle School in Rushville predict 45% change and average to bright yellow and green leaves, along with some reds. In Schuyler County, spotters in Watkins Glen, Burdett, and Rock Stream expect foliage to be at midpoint of change with more than 25% color transition, as trees are mostly green around Seneca Lake, but outlying areas are very bright and colorful. Foliage in Wayne County around Lyons will be at midpoint of change with 45% transition highlighted by average shades of orange and yellow, plus deep red.
---
---

Josh leads the content team at FingerLakes1.com and reports on an array of issues impacting residents in Upstate New York and beyond. Have a question? Send it to [email protected].