The higher elevations of New York are where the most significant changes can be seen in fall foliage.
The latest report from the state shows that some significant early color changes expected in the higher elevations of the Adirondacks and Catskills this weekend.
In Central New York, Oneida County spotters in Utica are predicting 20% foliage change with average to bright shades of yellow, red, and orange. In Broome County, foliage spotters in Binghamton predict 10% color change this weekend with bright pops of red and orange. Herkimer County spotters in Mohawk predict 10% color change and shades of rust, red, and yellow. In Montgomery County, around the Schoharie Crossing State Historic Site in Fort Hunter, reports predict 10% color change and mostly green leaves. Otsego County foliage spotters in Cooperstown predict about 10% color change and mostly muted yellow leaves. Schoharie County spotters in Sharon Springs are also expecting at least 10% transition with subdued shades of red and some green-yellow leaves.
Several areas are expecting 5% or less transition, including the City of Syracuse, and the Cayuga County communities of Auburn and Fair Haven. Cortland County spotters in downtown Cortland report 5% change, with some muted fall shades emerging.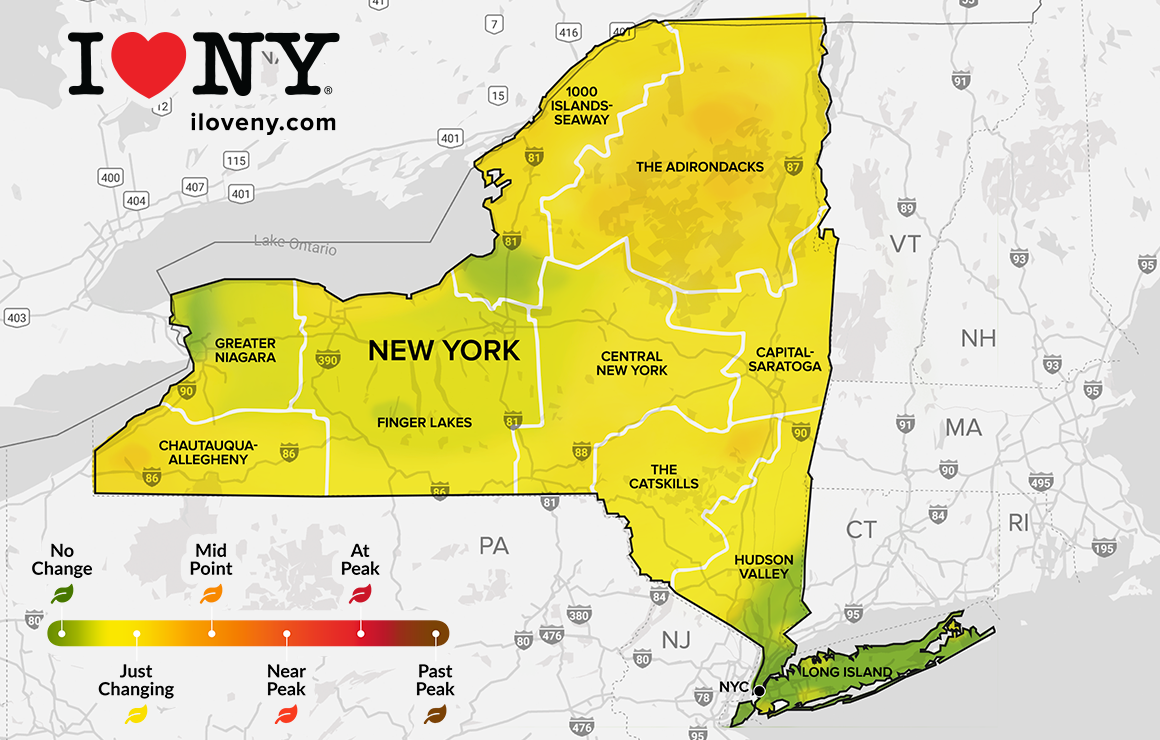 In the Finger Lakes, spotters reporting from the Rochester suburb of Brighton in Monroe County are expecting more than 15% color change with yellow leaves beginning to appear, along with touches of red, orange, and dark red. Spotters reporting from Greece expect a little less than 10% foliage change this weekend. Yellow and yellow-green leaves are appearing on a small number of trees, and a small amount of red is showing on a few higher branches. In Chemung County, Elmira spotters are calling for 5-10% leaf change with a mix of fall shades just beginning to appear.
Ontario County spotters in Farmington and Canandaigua expect up to 15% color change with some yellow leaves of average brilliance, while spotters in Rushville are predicting less than 5% change and mostly green leaves. Fall colors are just beginning to appear in Steuben County, according to spotters in Corning who expect about 10% color change this weekend. Seneca County spotters from Seneca Falls are seeing 5-10% change and some muted fall hues just beginning to appear. In Schuyler County, spotters reporting from Watkins Glen, Burdett, and Rock Stream expect about 5% color change.
Color change will also be around 5% in Tompkins County, with muted to average red and yellow leaves in Ithaca. Other spotters in Tompkins County reporting from Buttermilk Falls State Park and Taughannock Falls State Park are predicting 5% transition. In Wayne County, spotters in Lyons are predicting a little more than 5% leaf change by the weekend with yellow and red leaves of average brilliance emerging.
---
---