In this episode, we visit with Donna Neilsen, Director of the Keuka Comfort Care Home about Krossin' Keuka, the annual swim across Keuka Lake that serves as the main fundraiser for the home.
Krossin' Keuka has 200 swimmers, middle school age or older, who swim .67 miles across Keuka Lake. Swimmers sign in, are given swim caps, and instructions, and are grouped into pods (a group of about 10). The event kick-off takes place early Saturday morning on the shoreline of Keuka College's Point Neamo. Swimmers are ferried across the lake to Willow Point on pontoon boats and begin their swim together as a pod. Paddlers (Kayakers, Canoeists) escort each pod across the lake and are required to attend a safety briefing before the event begins. Paddlers are in place to keep swimmers on track, give encouragement, and are equipped to assist fatigued swimmers.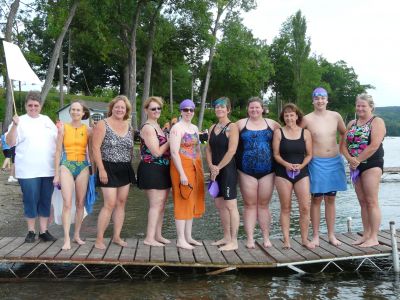 All money raised from this event is for the Keuka Comfort Care Home. KCCH provides a facility and staff to ensure compassionate care in a peaceful, home-like environment for our community's terminally ill residents and their families, at no cost to these patients or families. KCCH is an extremely valuable asset to our community and the quality of care at KCCH has been experienced by many.
Swimmers are welcome to form their own teams or "pods". Family members, co-workers, organization members, or friends. We encourage healthy money-raising competition among swimmers and pods, but Krossin' Keuka is not a race. The goal is to raise as much money as possible and have fun.
---
---