Snow is slowly subsiding as the winter storm that prompted travel advisories and alerts from the National Weather Service pulls away from Upstate New York.
Check out the latest forecast information for the remainder of the night as lake effect snow showers fill in behind the system.
---
What alerts are active from the National Weather Service?
WINTER WEATHER ADVISORY: The National Weather Service has issued Winter Weather Advisories for most of the region through the overnight.
What's left of this storm? What should we expect through Tuesday?
Editor's Note: Throughout this winter storm the Storm Trackers Team has been posting updates and sharing forecast guidance on Facebook. Check them out or follow them by clicking here. 
MAIN POINTS
Biggest threat now is blowing and drifting snow.
Lake effect snow will continue in Monroe, Wayne, Cayuga, Seneca, and Onondaga counties. Expect 4-6 inches in persistent bands.
Others will not see too much more accumulation. Another 1-3 inches is possible, but not much more than that should be added.
Roads remain difficult to travel. Use caution if headed out and plan for extra time commuting.
We will post snowfall reports below.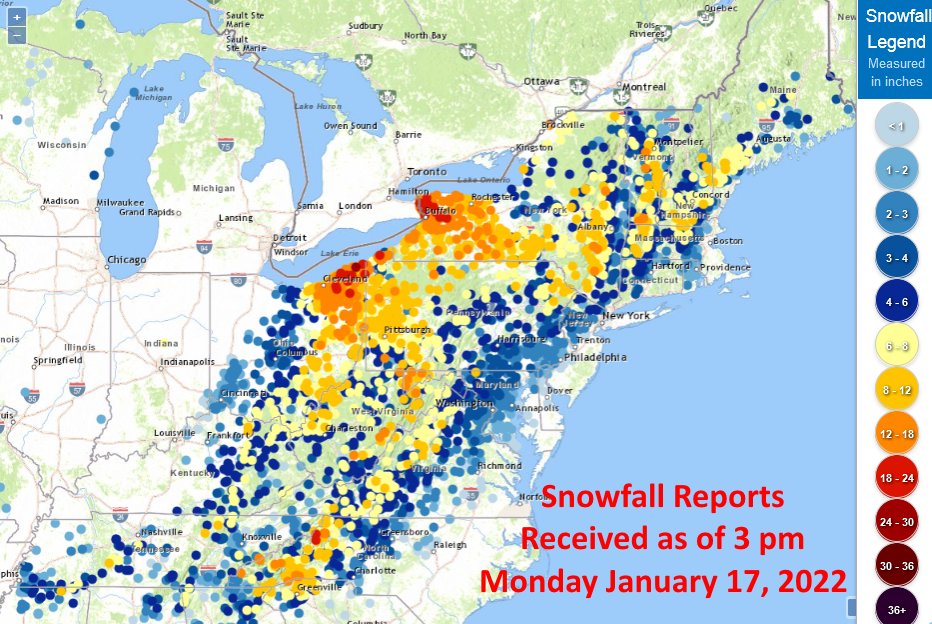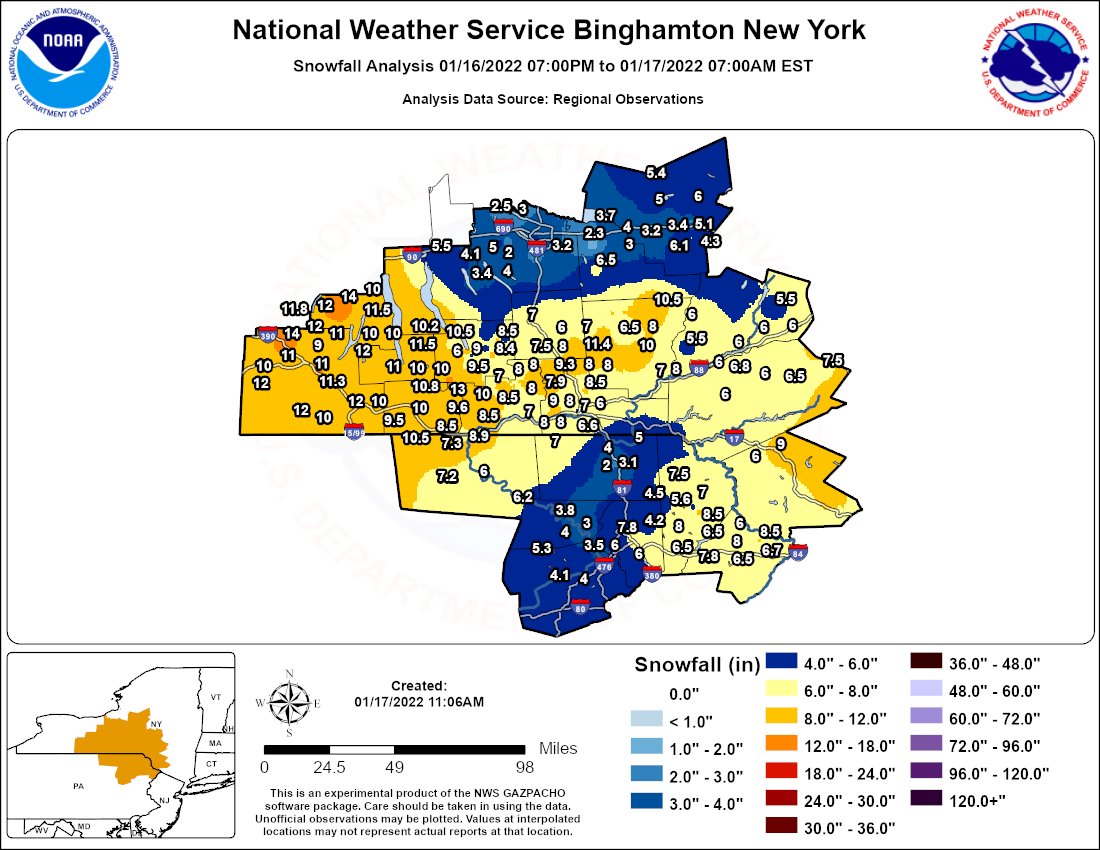 What are people seeing in the Finger Lakes?
I gave up and got an Uber. This is future Vanessa's problem. pic.twitter.com/qcqFklhkPI

— Vanessa J. (@cheeksv) January 17, 2022
Sledding everywhere in Webster Park pic.twitter.com/zO6fBAWjir

— Tina MacIntyre-Yee ? (@tyee23) January 17, 2022
Getting ready to play hockey on the Erie Canal in Perinton. They said the ice is five inches thick pic.twitter.com/36SMQhT2FT

— Tina MacIntyre-Yee ? (@tyee23) January 17, 2022
Walk With Me: Winter the way it SHOULD be at this 1830's farm in Western New York (Penfield). @News_8 @EricSnitilWx @wxbywilliams @spann @JimCantore @StephanieAbrams @mikebettes @SamChampion @StormHour @TomNiziol @GarofaloWX @louieg129 pic.twitter.com/rH8pcQgl6j

— John Kucko (@john_kucko) January 17, 2022
Earlier this morning this was Lake Ontario Parkway, I suspect it may still look like that. pic.twitter.com/WQuD4k65jM

— Tina MacIntyre-Yee ? (@tyee23) January 17, 2022
How do ambulances get to you in this weather? Well, at @chsmobilehealth, Pat drives a plow truck that not only clears the bases, helps get EMTs and Paramedics to work and assists ambulances BUT he also plows/shovels patients' driveways when needed. Story tonight on @news10nbc pic.twitter.com/Zz7Dbb4YhZ

— Jennifer Lewke (@WHEC_JLewke) January 17, 2022
Some brand new snow total updates coming in from the NWS. Impressive amounts for many! How much is on the ground where you are? pic.twitter.com/GDVOV7jQxn

— news10nbc (@news10nbc) January 17, 2022
It is downright ugly out here. Cars are getting stuck left and right. This one was stranded off of Ridge Road in Greece. That's @news10nbc photog Al Fulton helping a Greece PD officer push it out! #RedAlert pic.twitter.com/ftiaDWHwLo

— Emily Putnam (@whec_eputnam) January 17, 2022
Snow is coming down the roads are difficult to navigate some or not even plowed yet don't go out unless you have to @News_8 #roc pic.twitter.com/STOjeG8dNM

— eric schedlbauer (@NG_NewGuy) January 17, 2022
Our photographer Johnny jumped out to help Rochester Police get this stuck car out of the way on Broad Street. Wheels were spinning. The road conditions are really bad and we urge you not to be outside if you don't have to. @news10nbc @johnnyrnixon @RochesterNYPD pic.twitter.com/ScunEEaWkh

— Raven Tiara Brown (@WHEC_RBrown) January 17, 2022
Massive snow mounds piling up on the west side of the city. Here's the Ridgecrest Commons plaza in Greece. I'll be live here at 4am on @news10nbc . ?⛄️ pic.twitter.com/eRd1TnZNZe

— Emily Putnam (@whec_eputnam) January 17, 2022
The @townofbrighton plows are out on the roads this am doing the best they can to keep up with this storm. ? ? All the municipalities out there keeping the roads as safe as they can @News_8 #roc pic.twitter.com/N0Q3SOXjuu

— eric schedlbauer (@NG_NewGuy) January 17, 2022
This is 250/441 in Penfield the only people out right now are the 100s of private plow companies. Keep it that way it's not good out here at 3 am #toc @News_8 pic.twitter.com/ZFsDAUbogK

— eric schedlbauer (@NG_NewGuy) January 17, 2022
What's the latest from the National Weather Service?
How are NYSEG and RG&E preparing for this winter storm?
New York State Electric & Gas and Rochester Gas and Electric are preparing for Winter Storm Izzy expected to impact their service areas on Monday. As a result of the storm, customers may experience service disruptions. The storm is expected to impact the entire NYSEG and RG&E footprint, which includes the Western New York, Rochester, Finger Lakes, Southern Tier, North Country, Capital Region, Hudson Valley and Westchester regions.
NYSEG and RG&E urge customers to monitor local forecasts and prepare for the possibility of service interruptions, as significant snowfall has the potential to bring down trees and limbs, causing damage to overhead power lines and other electrical equipment.
Readying Crews
In preparation for the event, the companies have pre-staged more than 1,500 resources, including line and tree personnel, damage assessors and wire guards, across the state to assist with restoration efforts. Company and contractor crews will be onsite and prepared to facilitate an effective and efficient response should outages occur.
Equipment Summary
The line and tree crews will be prepared to respond to any snow or wind related issues with bucket trucks, auger trucks, wood chippers, dump trucks and backhoes.
How to Stay Up to Date
NYSEG and RG&E will provide updates throughout the event to the general public on their website and social media channels (Facebook and Twitter). Customers should also sign up for outage alerts and download the NYSEG or RG&E mobile app to get the most up-to-date information.
---
---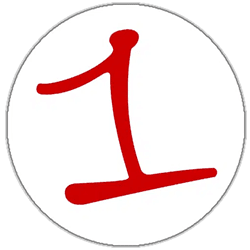 FingerLakes1.com is the region's leading all-digital news publication. The company was founded in 1998 and has been keeping residents informed for more than two decades. Have a lead? Send it to [email protected].