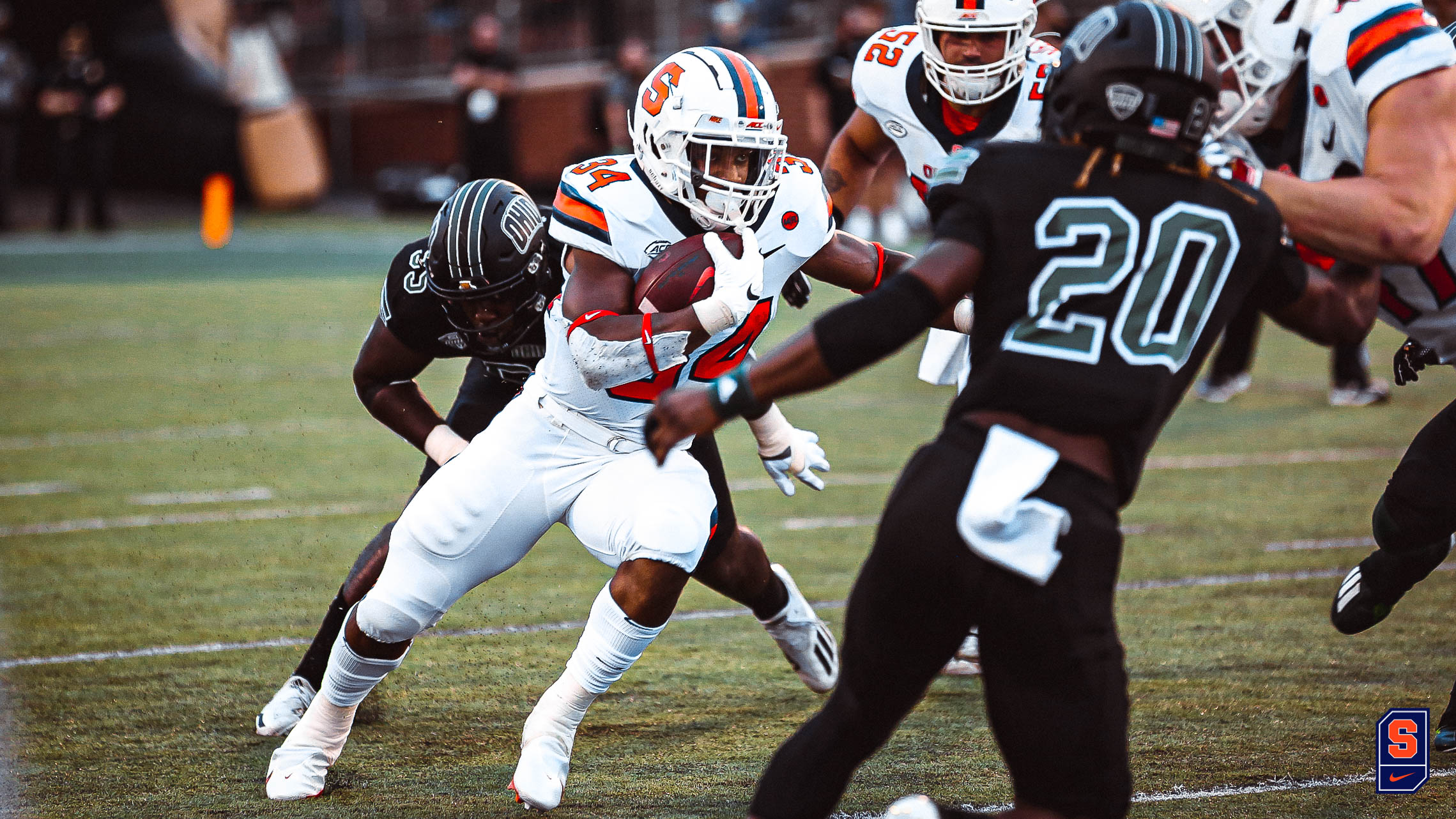 Just like he did on Syracuse football's first possession of the season, Sean Tucker bounced a run out to his right late in the third quarter before scampering past the Ohio defense for an explosive play.
The returning freshman running back scampered 28 yards, setting the table for a five-play, 73-yard scoring drive that he capped with a six-yard rush on his 19th carry of the evening.
The score pushed the Orange's lead to 22-6 in the waning moments of the frame, pushing SU to a comfortable lead in Athens, Ohio, that it would hold on to for a 29-9 win. Syracuse pulled away in the slog of a game that was both programs lean heavily on the ground game in their respective season openers.
Tucker finished with a career-high 181 yards on 25 carries, taking his second touch for 47 yards to set up Syracuse's first touchdown — a six-yard keeper from redshirt junior quarterback Tommy DeVito.
DeVito commanded the SU offense for almost the entirety of the game, belying the two-quarterback approach that head coach Dino Babers pitched publicly throughout the week leading up to the game. Before Mississippi State transfer Garrett Shrader came on with 2:29 left and the game in hand, DeVito completed 11-of-17 passes for 92 yards, rushing for another 49 yards and a score. The third-year starter commanded the offensive effectively behind a vanilla offensive approach — something that could change when the Orange hosts Rutgers in the Carrier Dome next Saturday.
On the other side of the ball, SU's 3-3-5 defense kept the Bobcats out of the end zone. The front six held all-Mid-American Conference running back De'Montre Tuggle in check (4.1 ypc; long of 9) while freshman cornerback Duce Chestnut logged eight tackles in his collegiate debut — often being challenged in run support, and answering the call nearly every time. The early enrollee who was Syracuse's highest-rated addition in the Class of 2021 broke up a fourth-down pass in the third quarter to give SU possession ahead of its second touchdown. Then he nabbed his fourth career interception in the final frame.
Third-year sophomore linebacker Mikel Jones paced the Orange with nine tackles while returning freshman punter James Williams provided the unit with a buffer both times he was called out — pinning the Bobcats inside their 10 twice. SU's defense capitalized on another short field, a botched kickoff return, as Caleb Okechukwu, Jason Simmons and Jones brought down Tuggle for a safety.
Syracuse came away from Peden Stadium with a convincing victory, albeit apparent injuries to defensive end Kingsley Jonathan and cornerback Garrett Williams.
The Orange will look to build on its start when it returns to action against Rutgers next Saturday at 2 p.m. The Scarlet Knights won their opener earlier on Saturday, beating Temple 61-14.
GAME RECAP LINKS:
GAME HIGHLIGHTS:
DINO BABERS POSTGAME PRESS CONFERENCE:
MEDIA:
1-0 pic.twitter.com/ijXgQlismg

— Syracuse Football (@CuseFootball) September 5, 2021
LET'S GO!!! pic.twitter.com/O4jnJrz27w

— Syracuse Football (@CuseFootball) September 4, 2021
Passing a legend.@_harris3 pic.twitter.com/B0KCuEV9Y3

— Syracuse Football (@CuseFootball) September 4, 2021
Ground game ? pic.twitter.com/8roMvYOAus

— Syracuse Football (@CuseFootball) September 5, 2021
Scenes from the first 30 minutes ? pic.twitter.com/q4MYbHss3Z

— Syracuse Football (@CuseFootball) September 5, 2021
Making stops ? pic.twitter.com/FXPjzLiQTV

— Syracuse Football (@CuseFootball) September 5, 2021
New career high for @seantucker2020 with 137 yards rushing after this score pic.twitter.com/wCOobczKny

— Syracuse Football (@CuseFootball) September 5, 2021
Won't. Be. Stopped.

Buck fitty for @seantucker2020 pic.twitter.com/Tzb8Jx6CYg

— Syracuse Football (@CuseFootball) September 5, 2021
Oh hey Duce ? pic.twitter.com/0mShrIExK4

— Syracuse Football (@CuseFootball) September 5, 2021
---
GAME PREVIEW:
A new season is officially upon us Saturday, when Syracuse opens the 2021 campaign with a road contest at Ohio on Saturday, Sept. 4 at 7 p.m. The contest from Peden Stadium will be televised on CBS Sports Network.
"It's a brand new slate," said head coach Dino Babers. "You get to start painting the portrait, so to speak, on how it's going to look when it's all said and done. [It's a] difficult opponent – more difficult than you would mostly likely want. But we're going to go down there and give it our best and see how we do."
It's a different feel for Syracuse heading into this year's season opener as it returns 10 starters on both sides of the ball from the 2020 squad that was one of the youngest in all of the FBS. More than 71 percent of the Orange's 2020 active roster was comprised of players in their first two years of eligibility, a mark that ranked fourth in the FBS. That experience should help combat any first-game nerves.
"I think the young guys are going to be nervous, guys who haven't played, they are going to be nervous," Babers said. "You can't get around it. But then there are guys who have played a lot of football and, talking to both coordinators, you really want to start the game with guys that have played. You don't want to hand the ball to somebody who hasn't had a handoff before. But if you start with the guys that have been around, I think that normally gives you a starting point that you want. Everybody has to take their first hit. Everybody has to have their first ball thrown at them. That's just football. I don't think we have as many guys as we had last year in that situation, but we have some guys."
The Orange are 84-43-4 all-time in season-opening contests, which includes a 7-3 mark in the last 10 years. Syracuse is 4-1 in the first game of the year under the direction of Babers.
'Cuse faces a team from the Mid-American Conference to christen a new season for the second time in four years. The Orange posted a 55-42 victory at Western Michigan in the first game of the 2018 season. This marks the fourth-straight year that Syracuse opens up on the road.
GAME PREVIEW LINKS:
DINO BABERS PRESS CONFERENCE:
GAME WEEK MEDIA:
Introducing our game captains for Saturday night.@_Sharod5, @C_HarperIII and @aaron53bolinsky pic.twitter.com/iHUSN3kRYt

— Syracuse Football (@CuseFootball) September 2, 2021
Road trip ready. pic.twitter.com/TDAfe41v1v

— Syracuse Football (@CuseFootball) September 2, 2021
Counting down the days until Saturday night. pic.twitter.com/09rUzcLoiD

— Syracuse Football (@CuseFootball) August 30, 2021
Tommy DeVito is listed as the starting quarterback for Syracuse's season opener at Ohio. pic.twitter.com/Vpb8iifX05

— Mike Curtis (@MikeACurtis2) August 30, 2021

Kyle leads sports coverage and hosts the Concrete Jungle podcast. Have a lead or question? Send it to [email protected].