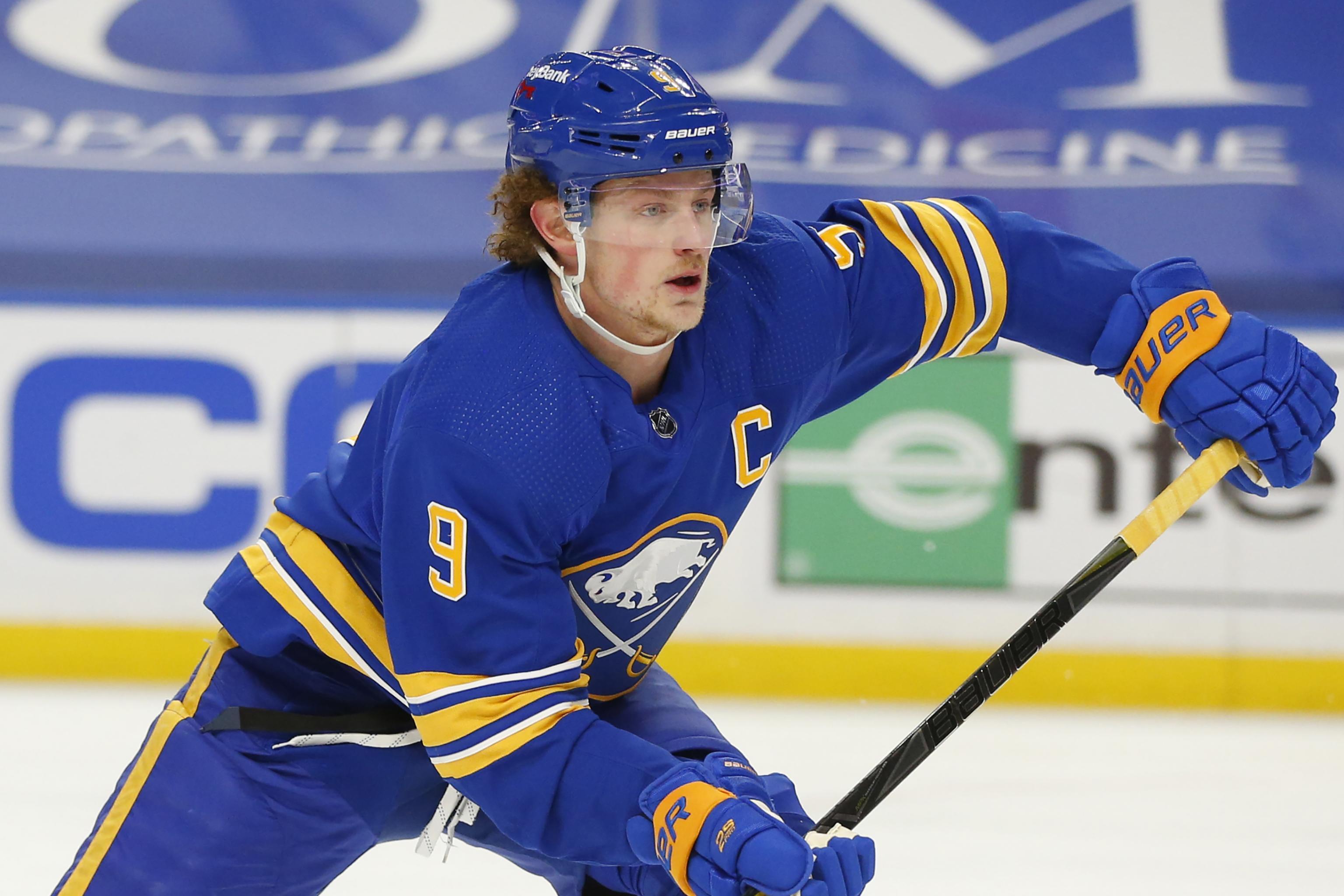 With his relationship with the Buffalo Sabres seemingly at a stalemate, captain Jack Eichel has made a major move to try to rejuvenate his suddenly stalled NHL career.
Eichel has fired longtime agent and fellow Boston native Peter Fish and replaced him with Los Angeles-based Pat Brisson, who is considered one of the heavy hitters on the NHL agent scene. The change was first reported Friday morning by Sportsnet's Elliotte Friedman and was later confirmed by The Buffalo News.
Fish and partner Peter Donatelli of Global Hockey Consultants in North Andover, Mass., have been unable to help the Sabres broker a trade for Eichel, who has not been on the ice since March and needs surgery for a herniated disk in his neck. Late on the night of July 31, the agents issued a widely panned statement notable for saying "the process is not working" and accusing the Sabres' medical staff of changing their position on Eichel's treatment and thus preventing him from being ready for the start of the season.
Eichel would like to undergo an artificial disk replacement surgery for his neck, but the Sabres have not agreed to the procedure because it has never been done on an NHL player and have insisted on a standard fusion procedure.
Buffalo General Manager Kevyn Adams has consistently said the team is in control of the process regarding Eichel and would only trade him if it received the proper return for a player of his caliber. It's well known the Sabres are looking for at least four assets in any Eichel trade, in some combination of NHL players, prospects and draft picks.
Neither Brisson nor Fish returned calls or emails from The Buffalo News on Friday. The Sabres had not yet heard officially from Brisson or Eichel about the change while it was being filed with and certified by the NHL Players Association.
Brisson, 56, has a client list that includes many of the game's top-grossing players: Pittsburgh's Sidney Crosby; the Chicago trio of Patrick Kane, Jonathan Toews and Seth Jones; Toronto's John Tavares; Los Angeles' Anze Kopitar; and Colorado's Nathan MacKinnon.
At a cap hit of $10 million per season that runs through the 2025-26 season, Eichel becomes Brisson's fourth-highest paid player behind Tavares ($11 million), Kane and Toews ($10.5 million apiece). Kopitar also is at a $10 million hit on his deal in Los Angeles that runs through 2024.
Fish is a Boston University graduate who has been Eichel's adviser for many years. Eichel played at BU for one season, helping the Terriers to the championship game of the NCAA Frozen Four in 2015 before being drafted at No. 2 overall that year by the Sabres.
The night before his third season in Buffalo began, Eichel signed an eight-year, $80 million contract extension with the Sabres on Oct. 3, 2017. It remains the richest deal in franchise history.
Brisson also represents Sabres veteran Kyle Okposo and newly signed forward John Hayden. His stable of young talent includes Vancouver's Elias Pettersson and Quinn Hughes, New Jersey's Jack Hughes, Montreal's Cole Caufield and Anaheim center Trevor Zegras, believed to be a key target in any Eichel trade between the Sabres and Ducks.
Brisson and partner J.P. Barry run the hockey division of Creative Artists Agency, a giant on the Hollywood entertainment scene. A former player in the Quebec Major Junior Hockey League, Brisson's son, Brendan, is a top center prospect for the Vegas Golden Knights and was the club's first-round pick, at No. 29 overall, in the 2020 NHL Draft.

Kyle leads sports coverage and hosts the Concrete Jungle podcast. Have a lead or question? Send it to [email protected].