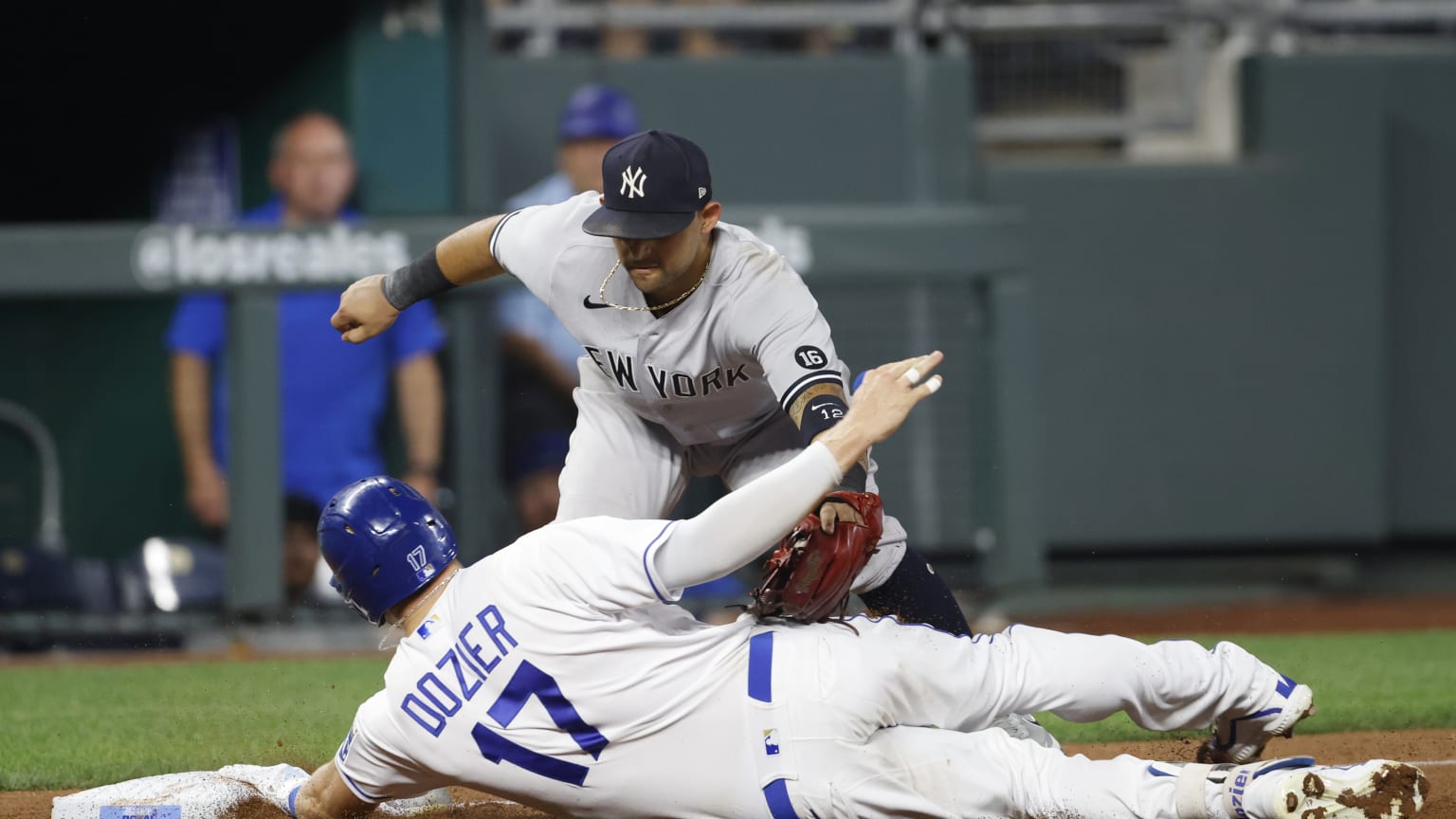 The Yankees set a season high by committing four errors, including two by catcher Kyle Higashioka and a costly one late by rookie reliever Stephen Ridings, in an 8-4 loss to the Royals on Tuesday evening at Kauffman Stadium.
One night after the clubs swapped runs deep into the early hours, New York and Kansas City again jockeyed back and forth — the Royals' attack powered by two Salvador Perez homers — until Hunter Dozier touched Ridings for a go-ahead RBI double in the sixth.
In the seventh, Ridings threw away a sacrifice bunt that allowed Michael A. Taylor to score, and Nicky Lopez greeted Joely Rodríguez with a squeeze to nudge the Royals further ahead.
Higashioka's fifth-inning miscue also produced a run, as he fired errantly to left field on a Whit Merrifield steal. Higashioka threw wildly on a second-inning Taylor steal, and first baseman Luke Voit booted an eighth-inning grounder.
Nestor Cortes was knocked for five runs (four earned) and seven hits over 5 2/3 innings, including Perez's two homers. The Yankees lost for the first time in Cortes' five starts this year.
The Yankees managed three runs in 4 2/3 innings against rookie Daniel Lynch, rated as the No. 19 prospect in baseball by MLB Pipeline. Andrew Velazquez stroked a third-inning double for his first Yankee hit, then scored on a wild pitch, and Higashioka slugged a two-run homer in the fourth. DJ LeMahieu added a run-scoring hit in the sixth off Domingo Tapia.
GAME HIGHLIGHTS:

Kyle leads sports coverage and hosts the Concrete Jungle podcast. Have a lead or question? Send it to [email protected].