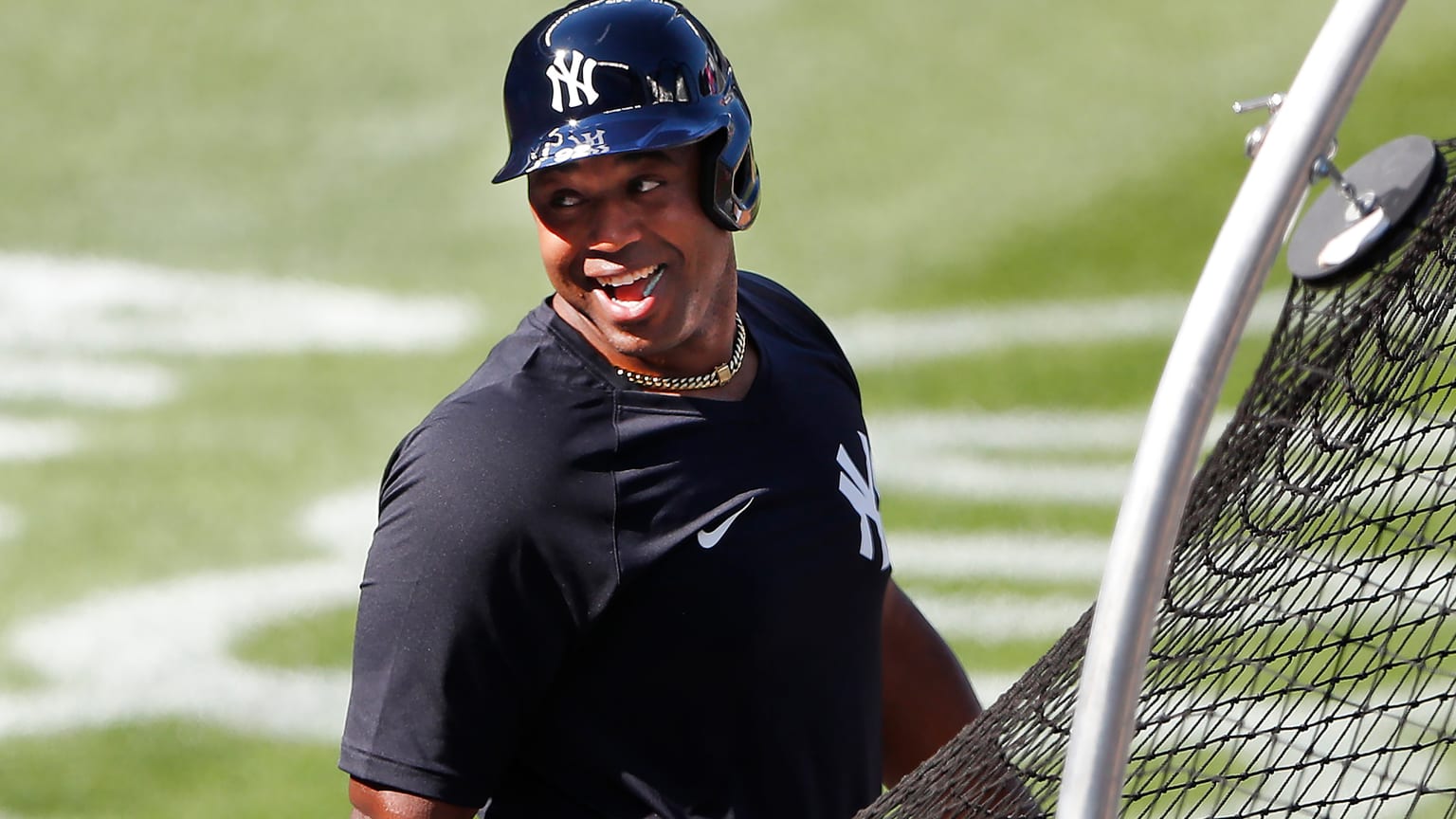 Promotional fireworks lit the sky over PNC Field, home of the Scranton/Wilkes-Barre RailRiders, as Chris Gittens returned to his rented Pennsylvania digs on Friday evening. The clock read 11:30 p.m. ET as the first baseman reached for his buzzing cell phone.
The voice on the other end of the line belonged to Kevin Reese, the Yankees' senior director of player development.
"He said, 'We need you.' I didn't know what he was talking about," Gittens said on Saturday. "He said, 'You're playing first base. Will you be ready?' And I was like, 'Of course I'm ready. This is what I've dreamed of my whole life.' So whatever I can do to help the team out."
The Yankees hope that Gittens can bolster their languishing lineup as he makes his Major League debut on Saturday against the Red Sox. Right-hander Nick Nelson was optioned to Triple-A after Friday's 5-2 loss to Boston, and the Yankees moved right-hander Corey Kluber to the 60-day injured list to create room on the 40-man roster for the 27-year-old Gittens.
"This is a great dude. He has totally earned this opportunity," manager Aaron Boone said. "It was really neat seeing him in here today and watching him walk through the clubhouse and drink it all in. I'm just really excited that that he's here and getting this chance."
Gittens has been a productive force at Triple-A this season, slashing .283/.486/.585 with four homers and 11 RBIs in 18 games. A 12th-round selection by the Yankees in the 2014 MLB Draft, Gittens owns a slash line of .265/.375/.476 with 75 home runs and 263 RBIs over seven seasons in the Minors.
Nicknamed "Hard Hittin' Chris Gittens" by James Rowson, the Twins' current bench coach and a former Yankees Minor League instructor, Gittens has big power. He showcased it in Spring Training, crushing a 114.3 mph, 440-foot grand slam against the Tigers on March 1.
Aaron Judge, Giancarlo Stanton, Gary Sánchez and Alex Rodriguez are the only Yankees to hit a 114-plus mph home run under Statcast tracking (since 2015), and only Judge, Stanton and Sánchez have hit homers that are both 114-plus mph and 440-plus feet.
"I felt like this spring, I did pretty well with controlling the strike zone," Gittens said. "That was my big thing going into the season; controlling the strike zone, whatever the pitchers gave me — do damage with that pitch. So then I was just hoping that sooner or later I'd get the call."
Gittens said that his parents were both traveling from Texas for the game. It will be the first time that Gittens' father has seen him play in a professional game.
"My dad told me in 2014 when I got drafted, 'I'm not coming to see you play until you make it to the big leagues,'" Gittens said. "My mom came to games, but he said that he knew that I could make it to the big leagues. It was a lot of motivation, a little push for me to get where I am right now."
The Yankees have received little production from their first basemen this season. Jay Bruce was installed as the Opening Day first baseman following an injury to Luke Voit, but Bruce retired after batting .118 in 10 games.
Mike Ford batted .133 in 22 games, and with Voit having returned to the injured list, DJ LeMahieu has been filling in at the position. Boone said that he will consider Gittens' playing time as a day-to-day decision.
"He's earned the opportunity to be here," Boone said. "He can continue to earn more."

Kyle leads sports coverage and hosts the Concrete Jungle podcast. Have a lead or question? Send it to [email protected].