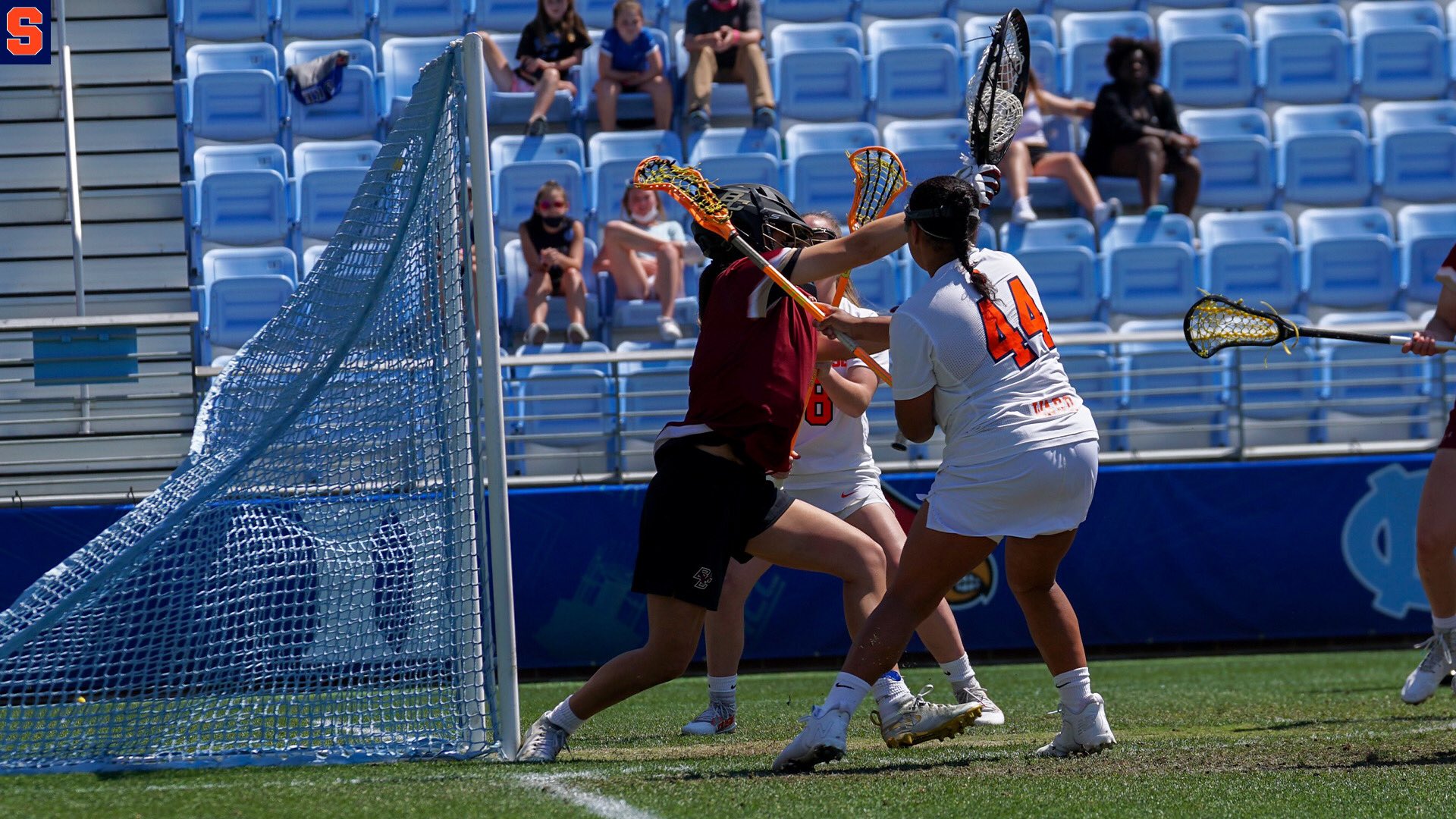 Sam Swart ran around the scoring area looking for a pass, but as she surveyed the field, BC's Jillian Reilly pressed up and checked Swart hard twice. Swart fell to the ground, and the referees awarded her a free position and a yellow card to Reilly. As Swart stood up to take the shot, head coach Gary Gait called a timeout.
Out of the timeout, Swart readied for the whistle. Instead of shooting, she passed back to a teammate and the Orange set up their offense.
Jenny Markey, Meaghan Tyrrell and Sierra Cockerille sent a few passes between one other to pull the Eagles' defenders back-and-forth. Eventually, Markey faked a pass right to Meaghan Tyrrell and instead sent a long pass over the top to Emma Ward, who was wide-open after making a backdoor cut. Ward scored and immediately turned back to point at Markey, thanking her for the assist.
For the third time in nine days, Syracuse (14-2, 8-2 Atlantic Coast) faced off with Boston College (13-3, 8-2). This time, the Orange prevailed, 19-17, in one of the highest-scoring games in ACC Tournament history. Ward scored five times and notched the game-winner to send Syracuse to the ACC Tournament Final to face North Carolina.
In the first meeting on April 22, the two teams went strike for strike, trading goals until BC's Jenn Medjid scored the game-winner on the man-up with just one minute left. In that same game, SU's leading goal scorer, Megan Carney, went down with a torn ACL. But in the second game two days later, the Orange bested the Eagles on both sides of the field en route to a 16-7 win.
Friday, the offense came alive in the first half, scoring 11 goals. Emma Tyrrell and Ward led the way, with the pair both notching first-half hat tricks.
GAME RECAP LINKS:
GAME HIGHLIGHTS:
MEDIA:
On to the finals!! ??? pic.twitter.com/g8sdmwDVw3

— Syracuse Women's Lacrosse (@CuseWLAX) April 30, 2021
Go time! ??? pic.twitter.com/1FCxQ0kePK

— Syracuse Women's Lacrosse (@CuseWLAX) April 30, 2021

Kyle leads sports coverage and hosts the Concrete Jungle podcast. Have a lead or question? Send it to [email protected].