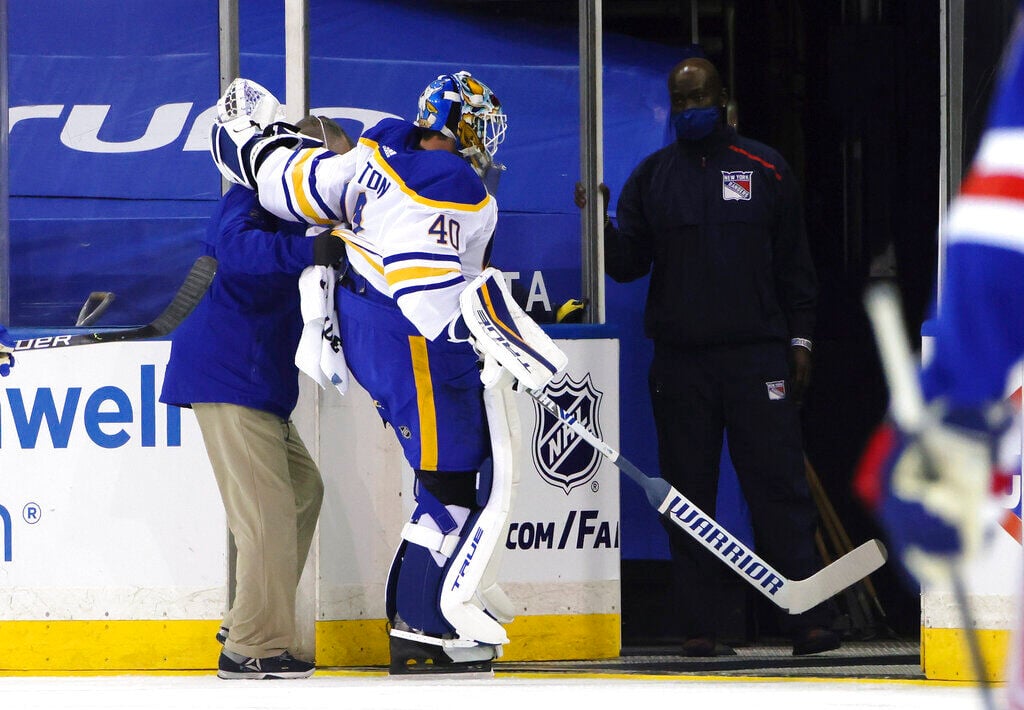 According to coach Don Granato, Carter Hutton (lower body) has suffered a setback in his recovery.
Hutton still hasn't been ruled out of the remainder of the season, but the Sabres only have seven games remaining in 2020-21, so it wouldn't be surprising to see the veteran netminder miss the rest of the year. With Hutton and Linus Ullmark (lower body) both sidelined, Dustin Tokarski and Ukko-Pekka Luukkonen will continue to operate as Buffalo's top two netminders.
Ukko-Pekka Luukkonen will make his third NHL start Thursday night in Boston vs. the Bruins.
Tokarski relieved Hutton the night he was injured and made his Buffalo debut. The 31-year-old was named the NHL's First Star of the Week for the period ending April 19 and has gone 2-7-2 with a 3.23 goals-against average and .914 save percentage.
Both Hutton and Ullmark are unrestricted free agents but at very different points in their careers. Hutton, 35, is 1-10-1 this season with a 3.45 goals-against average and .886 save percentage in the final season of a three-year contract that paid him $2.75 million per season. It's unclear if he would seek a new deal from another team or retire. Ullmark, 27, is 9-6-3, 2.63/.917 but has suffered three injuries in the last two seasons that could hinder his ability to cash in on a bigger money deal with the Sabres or someone else.

Kyle leads sports coverage and hosts the Concrete Jungle podcast. Have a lead or question? Send it to [email protected].