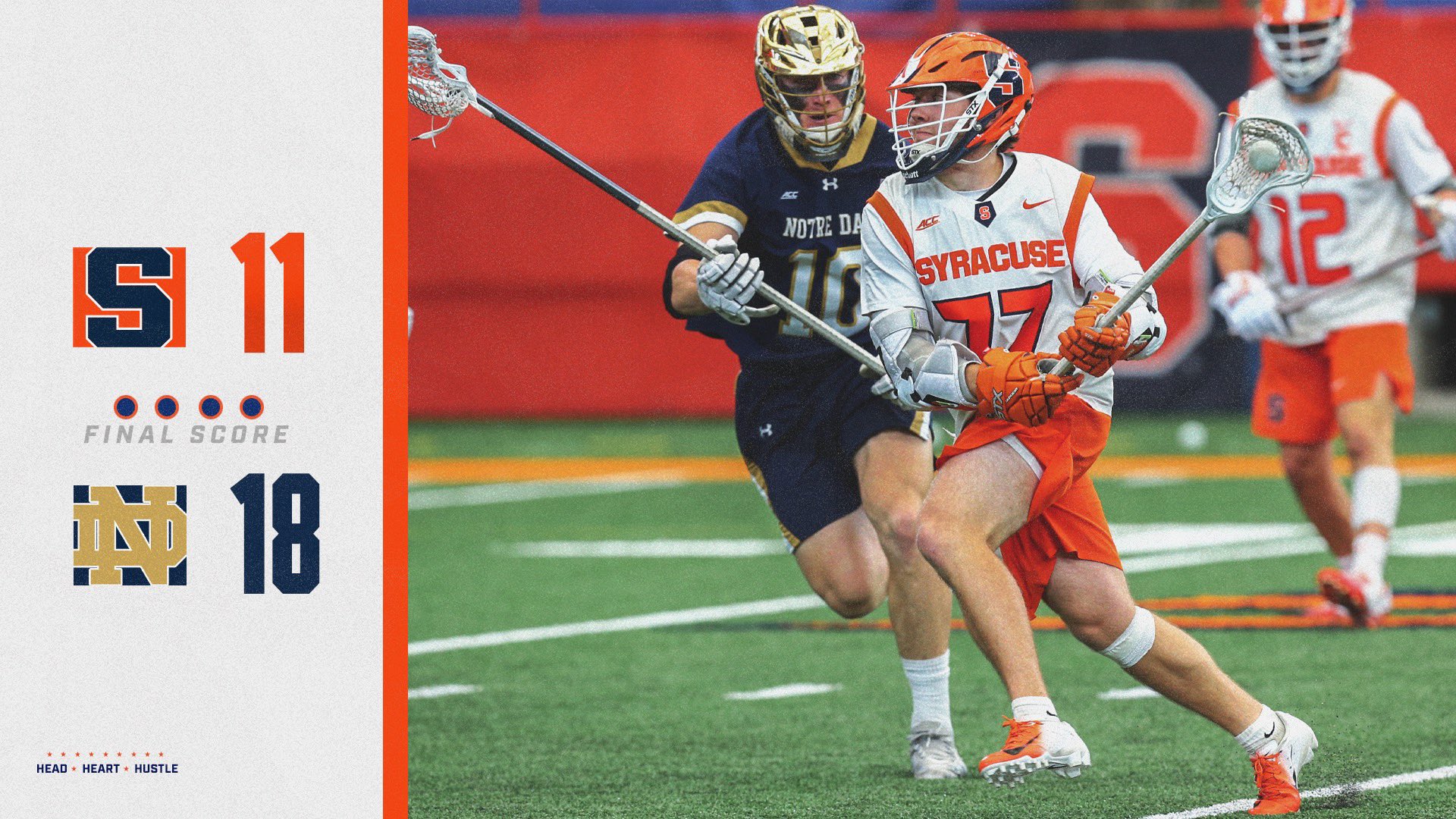 Syracuse raced out to a 4-1 lead in the first quarter, but a nine-goal second quarter from Notre Dame was too much for the Orange to recover from, as the Irish rolled 18-11 in the Dome on Saturday.
Lack of possessions was the dagger for No. 4 Syracuse (4-3, 1-2 ACC), who scored 11 goals despite only winning nine faceoffs. No. 9 Notre Dame (5-1, 1-1 ACC) won 23-of-32 at the X and also dominated the ground ball battle 45-20. They also converted on 4-of-6 extra-man opportunities.
Stephen Rehfuss led the way for the Orange, netting three goals for the second-straight game. Chase Scanlan, Owen Seebold and Brendan Curry also found the back of the net twice. Notre Dame's Pat Kavanaugh notched nine points (4-5) to lead all scorers, while Griffin Westlin and Will Yorke both scored four goals apiece.
Jamie Trimboli and Seebold each scored for the Orange in the first five minutes of the game, followed by a pair of Rehfuss tallies after a goal by Quinn McCahon, giving 'Cuse a 4-1 lead through eight minutes of play.
Pat Kavanaugh scored his first of the day before Scanlan and Curry each posted goals to open a 6-2 lead for Syracuse just two minutes into the second quarter.
That's when the floodgates opened for Notre Dame. The Irish scored nine goals in the second quarter and 12 of the game's next 14 goals. 'Cuse managed to string together a mini run of three goals late in the third to pull within three heading into the fourth quarter, but Notre Dame tallied all-four fourth quarter goals to win 18-11.
Syracuse hosts UAlbany on Thursday at 5 p.m. on ACC Network in its next matchup.
GAME RECAP LINKS:
GAME HIGHLIGHTS:
MEDIA:

Kyle leads sports coverage and hosts the Concrete Jungle podcast. Have a lead or question? Send it to [email protected].