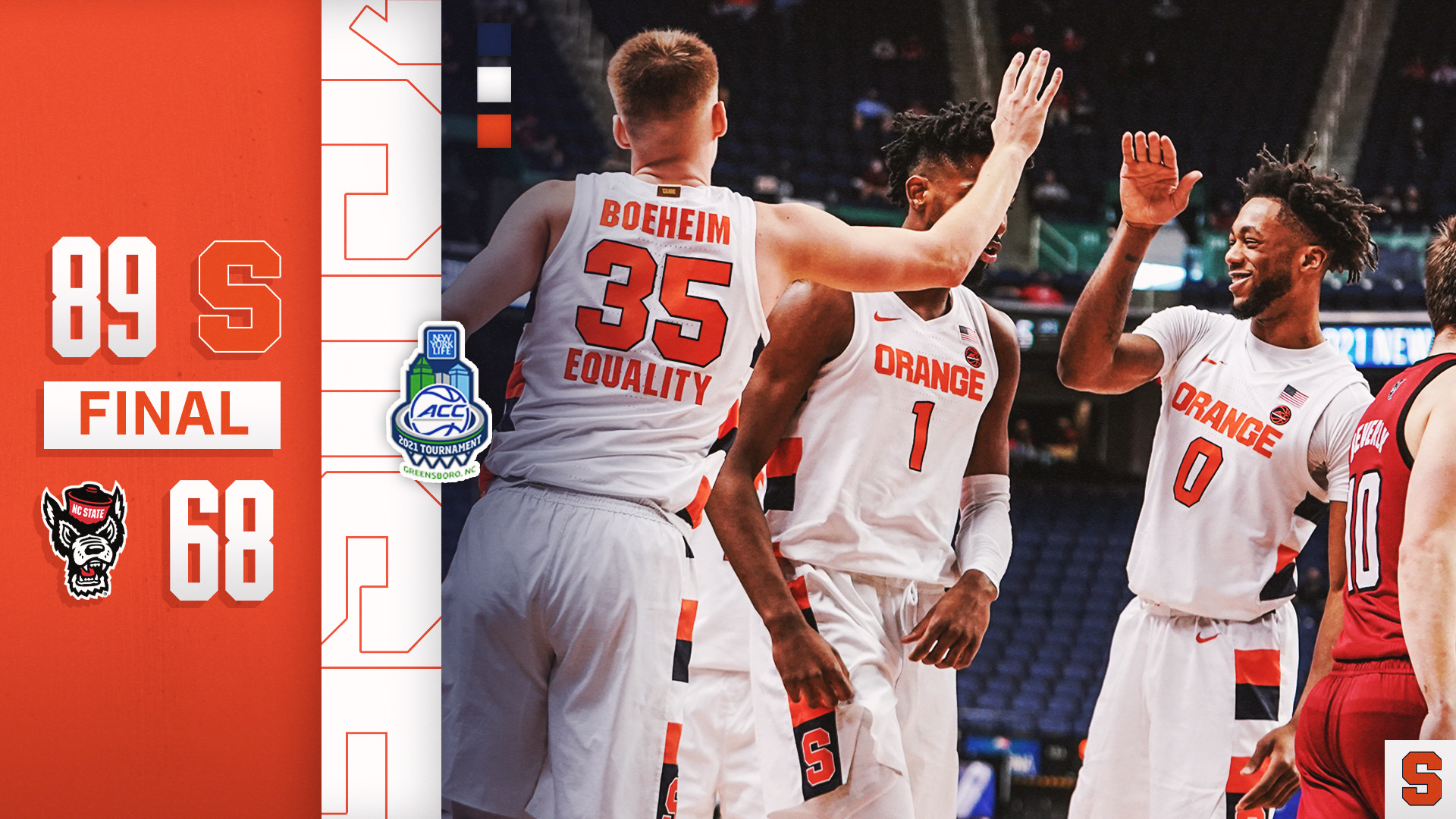 Syracuse certainly looked like an NCAA tournament team as it easily handled the North Carolina State Wolfpack for an 89-68 win in the second round of the ACC tournament on Wednesday.
Syracuse entered the ACC tournament knowing that it had to win at least one; and maybe more games in order to earn an NCAA at-large bid.
The NCAA tournament's bubble is so cloudy this year that it's hard to know whether Syracuse punched its tournament ticket or just kept their hopes for a berth alive.
Either way, it was a huge win for the Orange, which has now beaten North Carolina, Clemson and NC State in succession for its first three-game win streak since before Christmas.
The win improved Syracuse's record to 16-8 overall. The Orange went 9-7 in the ACC.
North Carolina State (13-10, 9-8) had won five games in a row to end the season.
Syracuse advances to play No. 1 seed Virginia in the ACC tournament quarterfinals on Thursday. The game will start at noon.
Buddy Boeheim, who wasn't on the ACC's first, second or third all-conference teams, played like an all-conference player, scoring 27 points, including 20 in the first half. Boeheim made 10 of his 16 field goal attempts, including 6-for-12 shooting on 3-pointers.
GAME RECAP LINKS:
GAME HIGHLIGHTS:
JIM BOEHEIM'S POSTGAME PRESS CONFERENCE:
MEDIA:
Syracuse is stickin' around! ?@Cuse_MBB advances to face Virginia tomorrow at noon. pic.twitter.com/hWct38dnxC

— ACC Men's Basketball (@accmbb) March 10, 2021
??? pic.twitter.com/dvrnh0itwU

— Syracuse Men's Basketball (@Cuse_MBB) March 10, 2021
Shooters shoot.

?This is the 4th of the last 6 games, where @Buddy_Boeheim35 has 20+ points? pic.twitter.com/XRUlVkuVWl

— Syracuse Men's Basketball (@Cuse_MBB) March 10, 2021
---
GAME PREVIEW:
Syracuse begins postseason play on Wednesday, March 10 when it faces NC State in the second round of the ACC Tournament. Tip off from Greensboro Coliseum is set for 12 p.m.
The 'Cuse closed the regular season on a high note after defeating North Carolina and Clemson in the Carrier Dome last week. Buddy Boeheim gave the Orange 26 points and buried six 3-pointers in the 72-70 victory against the Tar Heels, while Alan Griffin tallied a 22-point, 10-rebound double-double en route to a 64-54 triumph versus the Tigers.
NC State put together a scorching stretch to close out conference play. The Wolfpack have won each of their past five contests, including a 68-61 victory at ACC regular-season champion Virginia on February 24. The stretch improved the team's record to 13-9 overall and 9-8 against conference opponents.
The Orange own a 9-6 advantage in the all-time series against the Wolfpack. The sides have met twice this season, with Syracuse prevailing in both contests. On January 31, the Orange rallied from a nine-point halftime deficit to win, 76-73, in the Dome. Nine days later on February 9, the 'Cuse clinched a 77-68 triumph behind 22 points from Alan Griffin.
GAME PREVIEW LINKS:
MEDIA:
Back on the court in Greensboro ? pic.twitter.com/H86wSDCogp

— Syracuse Men's Basketball (@Cuse_MBB) March 9, 2021
On a mission. ?✊ pic.twitter.com/ReRlPb6bLi

— Syracuse Men's Basketball (@Cuse_MBB) March 9, 2021
March. Means. More. ? pic.twitter.com/Y31mRAesjd

— Syracuse Men's Basketball (@Cuse_MBB) March 10, 2021
'Cuse ✈️ Greensboro#ACCTourney pic.twitter.com/HsQqd85EBV

— Syracuse Men's Basketball (@Cuse_MBB) March 8, 2021

Kyle leads sports coverage and hosts the Concrete Jungle podcast. Have a lead or question? Send it to [email protected].