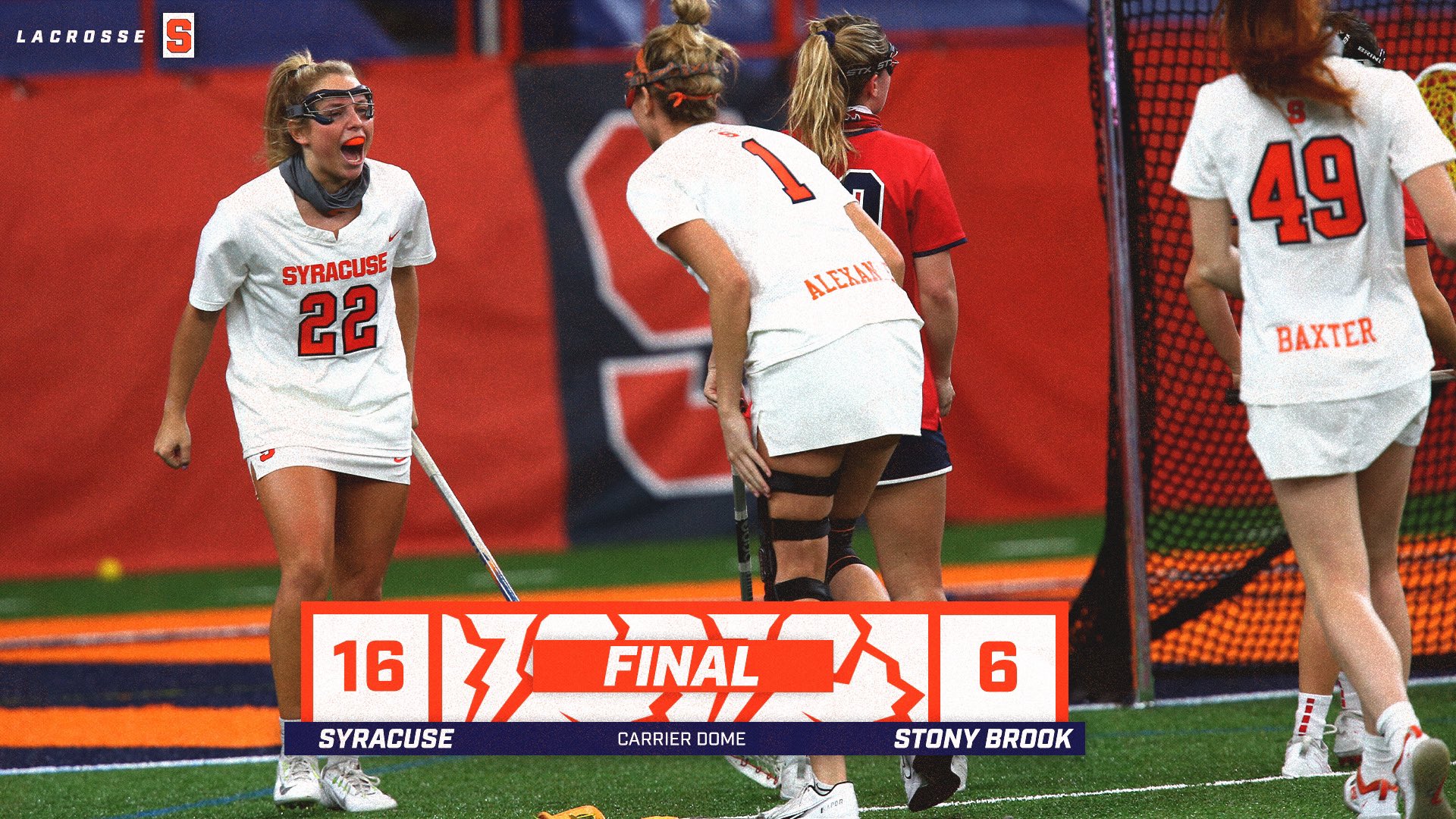 Saturday morning, All-American Emily Hawryschuk came out of the tunnel with her teammates sporting a hoodie and crutches as her teammates warmed up. Now in her fifth-year, Hawryschuk has never missed a game for SU, and the last time she didn't start was back in March 2018.
But the absence of Syracuse's leading goalscorer didn't stop its high-powered offense.
No. 2 Syracuse's (2-0) dominated No. 5 Stony Brook in the Orange's home opener in the Dome, 16-6. It marked Syracuse's second win over a ranked opponent this season, after it beat then-No. 5 Loyola, 18-6 last weekend. Saturday morning, Syracuse netted 12 first half goals, fueled by a 6-0 run that spanned only five and a half minutes. Megan Carney tied her career high with five goals, leading all scorers. After tying a career-high four goals last week, Sam Swart duplicated the statline for the second straight week. Sierra Cockerille tacked on another four.
GAME RECAP LINKS:
GAME HIGHLIGHTS:
MEDIA:
Megan Carney has a natural hat trick with three-straight goals to give 'Cuse a 12-3 lead.

The latest ⤵️ pic.twitter.com/3aQDHezWdH

— Syracuse Women's Lacrosse (@CuseWLAX) February 27, 2021
Hat trick 🎩🤪

Sam Swart with her third goal of the game.

Orange lead 8-2! pic.twitter.com/7xSSmc5PZl

— Syracuse Women's Lacrosse (@CuseWLAX) February 27, 2021
She's baaaaaacccckkkk!

Morgan Alexander finds the back of the cage for the first time this season. pic.twitter.com/nqzIGcBb2S

— Syracuse Women's Lacrosse (@CuseWLAX) February 27, 2021