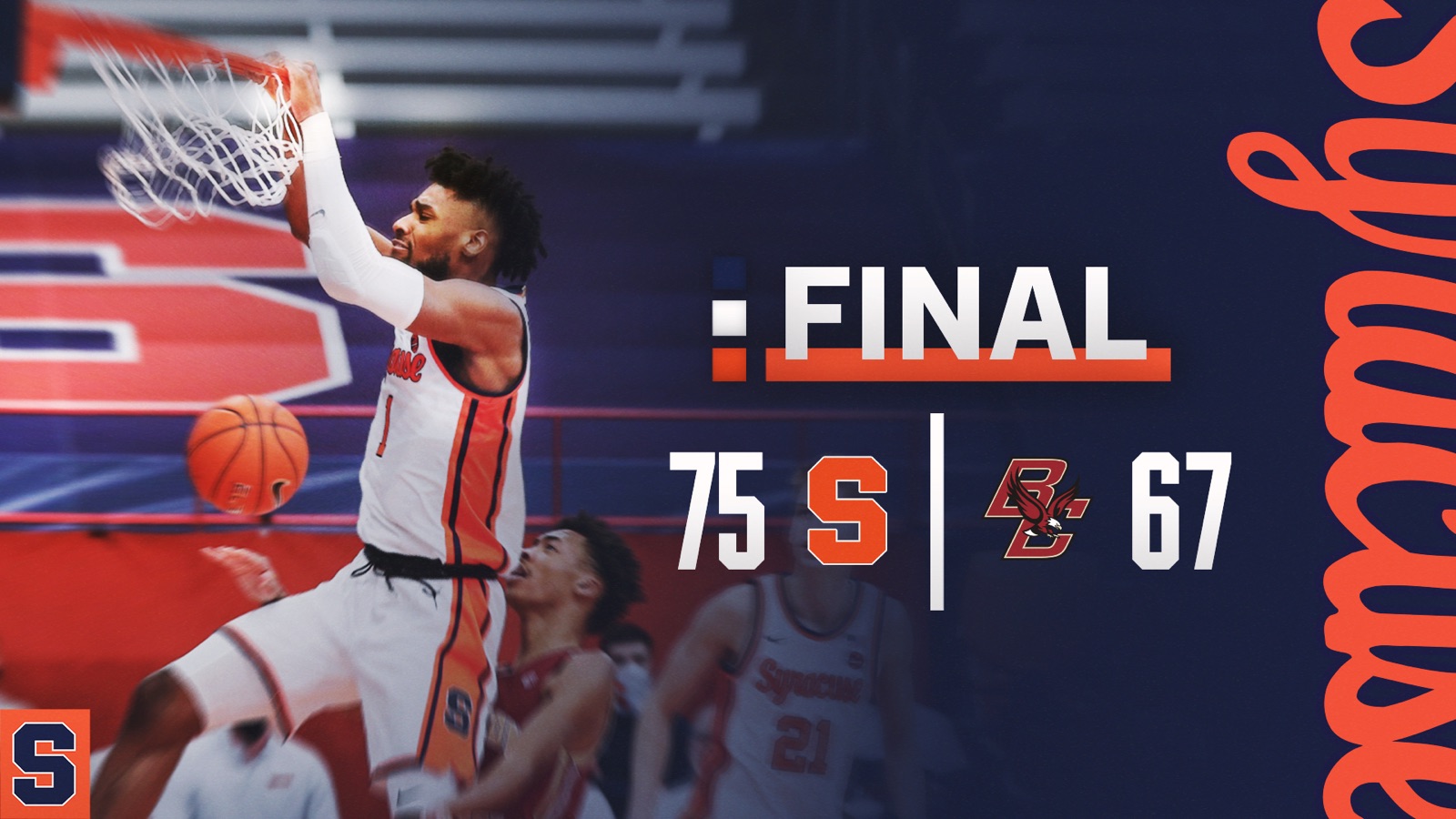 It wasn't easy; nor was it pretty, but the Syracuse Orange got a win that it had to have on Saturday.
Syracuse outlasted Boston College, 75-67, at the Carrier Dome, keeping the Eagles at bay for most of the day but never really putting them away either.
Syracuse repeatedly pushed out to double-digit leads only to have the Eagles fight their way back to within two possessions.
The win improved Syracuse's record to 12-6 overall and 6-5 in the ACC.
The win was important for Syracuse in that it was a game the Orange could ill afford to lose. Boston College (3-13, 1-9) came into the game ranked 161st in the NCAA's NET rankings, meaning a win would not help SU's NCAA tournament resume but a lose could prove extremely damaging.
The win gave Syracuse a sweep of the season series with Boston College. The Orange beat the Eagles 101-63 on Dec. 12 in Chestnut Hill, Mass.
Alan Griffin led Syracuse with 14 points and eight rebounds despite being in foul trouble for most of the game. Joe Girard contributed 16 points, scoring all of them in the first half.
Marek Dolezaj and Buddy Boeheim both added 13 points apiece.
GAME RECAP LINKS:
GAME HIGHLIGHTS:
JIM BOEHEIM'S POSTGAME PRESS CONFERENCE:
MEDIA:
In a can't-lose situation, Syracuse pulls out a win in a snoozer over Boston College to move to 12-6 overall. Alan Griffin was great.

SU has now beaten BC six times in a row. The Orange won five of their last seven to get to 6-5 in the ACC with five games left.

— Matthew Gutierrez (@MatthewGut21) February 13, 2021
Candyman showing that rim no respect 🍭😤 pic.twitter.com/XYUhd6uucO

— Syracuse Men's Basketball (@Cuse_MBB) February 13, 2021
Death, Taxes and @MarekDolezaj taking charges. pic.twitter.com/ODPjXkcSa2

— Syracuse Men's Basketball (@Cuse_MBB) February 13, 2021
BUCKETS 🔥@JG3_____ in the first half:
🔸 16 PTS
🔸 7-9 FG
🔸 2 AST
🔸 2 STL pic.twitter.com/Td8SiaCJ3Y

— Syracuse Men's Basketball (@Cuse_MBB) February 13, 2021
---
GAME PREVIEW:
Syracuse men's basketball comes home, fresh off a win on the road, to host Boston College at the Carrier Dome on Saturday, February 13 (2/3/2021).
The game will be broadcast on the ACC Network, which can be streamed live on fuboTV, Sling, Hulu + Live TV and other live TV services.
Syracuse picked up a second win for the season over NC State on Tuesday, beating the Wolfpack 77-68 at PNC Arena. The Orange improved their standing a bit in the ACC after the win. They are now 11-6 overall and 5-5 in conference.
GAME PREVIEW LINKS:
MEDIA:
Bout to heat up 🍊🔥 pic.twitter.com/l6MzaXB3U4

— Syracuse Men's Basketball (@Cuse_MBB) February 13, 2021
𝓖𝓪𝓶𝓮𝓭𝓪𝔂 🍊 pic.twitter.com/qrBg9RKoxx

— Syracuse Men's Basketball (@Cuse_MBB) February 13, 2021
Early shots going 🆙 pic.twitter.com/fCwvT9gQby

— Syracuse Men's Basketball (@Cuse_MBB) February 13, 2021
Counting down ⏳

2 PM ET, ACCN pic.twitter.com/e5Trv0LBAM

— Syracuse Men's Basketball (@Cuse_MBB) February 13, 2021