After avenging its only loss of the season by beating Dartmouth on Friday, No. 1 Cornell men's hockey returned to Lynah Rink on Saturday to face its biggest rival, Harvard.
Cornell came into the game riding a seven-game unbeaten streak and had only one loss to its name. Meanwhile, the Crimson, which started the year with a perfect 6-0 record, entered the contest with a measly 3-6-3 mark in its last 12 games.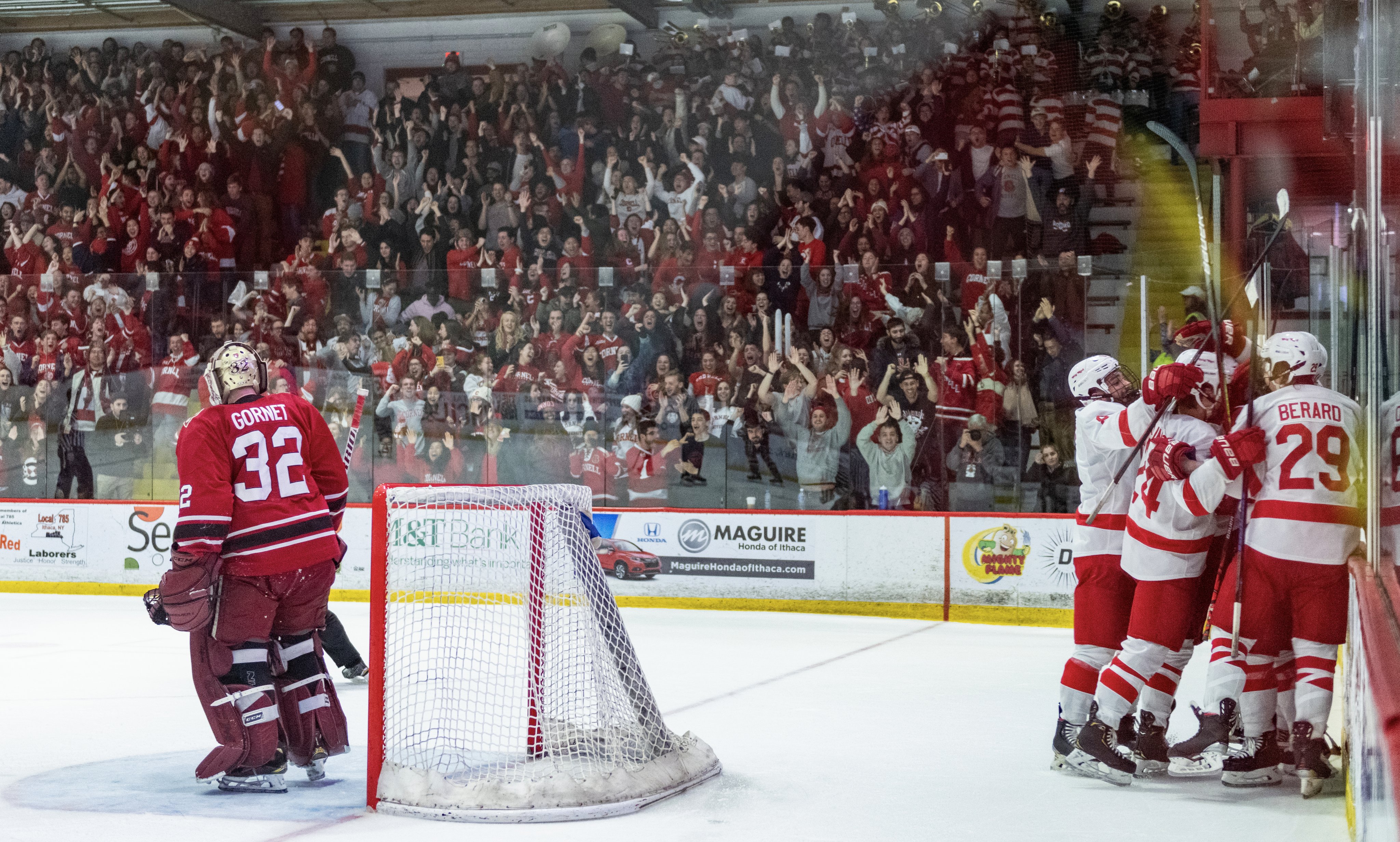 While it seemed like both teams were trending in opposite directions, the Red and the Crimson battled in a close contest. Harvard first drew blood late in the game, but sophomore forward Michael Regush forced a 1-1 draw with a strike on the power play.
The first goal wasn't scored until there was only 4:05 left on the clock. After relentlessly pressuring junior goaltender Matt Galajda, the Crimson finally broke through as freshman Jack Drury's shot from the slot found the back of the net.
What a battle for #1 Cornell men's hockey, which got a 6-on-4 goal from Michael Regush with 1:46 left in the third period to ignite sold-out Lynah Rink and give the Big Red a 1-1 tie with #16 Harvard! #YellCornell
(?: Eldon Lindsay/Cornell Athletics) pic.twitter.com/hGYZHYTvQv

— Cornell Big Red (@CornellSports) January 26, 2020
A packed house! ??? ⠀

Lynah Rink was sold out for tonight's @CUBigRedHockey game against rival Harvard. Each team scored late in the final minutes, resulting in a 1-1 tie. #YellCornell

?: @CornellSports ⠀ pic.twitter.com/uzW6uuu4YO

— Cornell University (@Cornell) January 26, 2020
Check out photos from tonight's @CUBigRedHockey game vs Harvard. #YellCornell (? : Eldon Lindsay/Cornell Athletics)

Full Gallery: https://t.co/nDeIaH4tCo pic.twitter.com/G77tFk8xE7

— Cornell Big Red (@CornellSports) January 26, 2020
GAME HIGHLIGHT'S: