With recent race-related issues resurfacing at Hobart and William Smith Colleges, both past and present, select faculty have taken measures to discuss campus climate, one that seems to consist of silence and miscommunication, a sense of being unheard by all actors: students, faculty, administration and staff alike.
As a result, a group of faculty have scheduled "Diversity Listening Sessions" for this upcoming Tuesday, May 7 and Wednesday, May 8 to directly hear from "students' voices face-to-face" regarding issues of diversity and inclusion on-campus. These conversational platforms are intended to serve as the foundational sources in preparation for future events to take place during the Fall 2019 semester, the following academic year.
An anonymous source indicated that not all members of the initial meeting team were in support of the title but kept it for logistical reasons.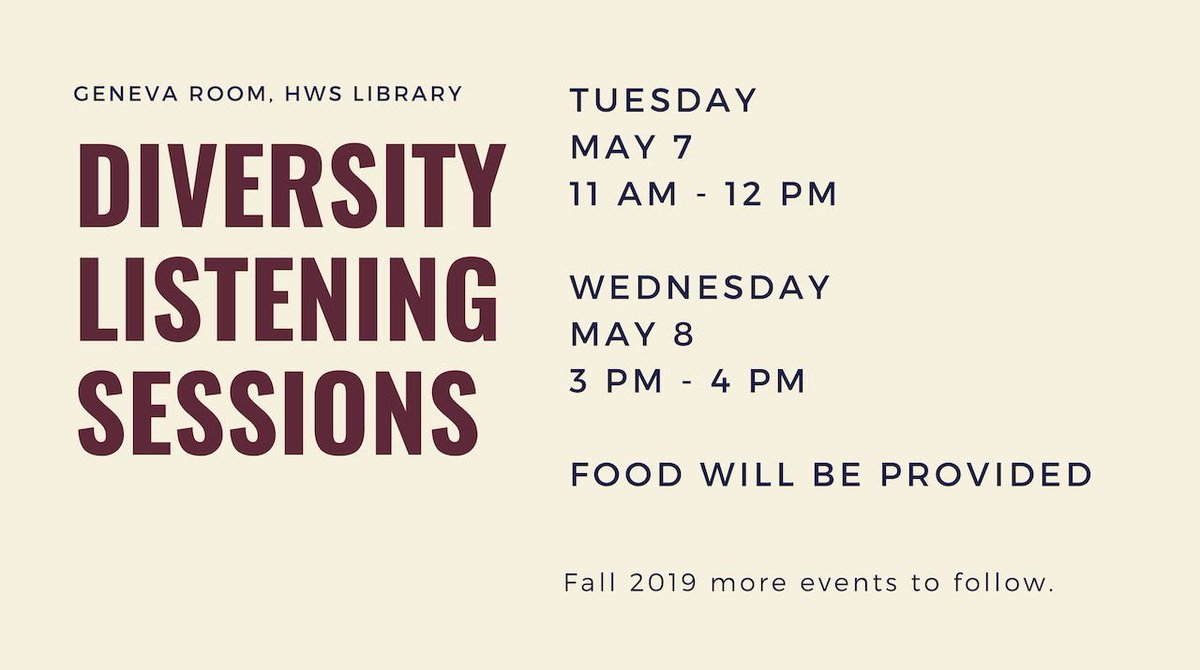 Placing an emphasis on listening, the sessions are set to transpire during the Reading Days before the final examination period, just days prior to the end of academic calendar year with classes officially ending Monday, May 6.
Last week's feature edition of The Herald, the Colleges' newspaper, recognized 24 racial viewpoints and the challenging lived-experiences for people of color on-campus. Following suit, a series of emails sent by administrators including Interim President Patrick McGuire assured that the institution is behind students of color who bravely brought their perspectives to the forefront of the campus community consciousness. 
The announcement for the "Diversity Listening Sessions" derived from an email that was sent out Monday, May 6 by Associate Professor of Psychology Brien K. Ashdown in conjecture with the organizing group of faculty as well as the Deans' Offices.
Letter from organizer(s):
Friends and Colleagues ~

As many of you know, some recent events on our campus has our community agitated (to put it mildly, perhaps).  In a desire to be supportive of students and other community members, a group of faculty and staff have discussed some ways that we might be able to do better.  We are concerned and want to ensure that our students (all of our students) know that we are here for them and value them as members of our community.  We feel that it is necessary that we do something before the end of the semester to demonstrate our support.

Because of the timing in the academic calendar we find ourselves—when we don't want to add more pressure or obligation to community members—we have planned two short "Diversity Listening Sessions."  These are 60-minute sessions occurring next week with the goal of faculty and staff members being present to listen to students and their concerns about diversity and inclusion on campus.  The Deans' Offices will be sending more information about these sessions to the students early next week.  Those of us who were involved in planning these sessions want to ensure that all of you, our colleagues, feel invited and welcome to attend and listen to our students. 

There will be more events planned for the fall semester once we return and have the time and resources to do more.  But for now, I hope you'll all consider joining us at one or both of the following (at which the Deans' Offices are kindly providing some refreshments!):

1.       1st Diversity Listening Session = Tuesday, May 7 from 11am-12pm in the Geneva Room in the Library

2.       2nd Diversity Listening Session = Wednesday, May 8 from 3pm-4pm in the Geneva Room in the Library

I sincerely hope you'll consider joining us in the spirit of listening to the voices of our students.  We are looking forward to using what we learn from them on these two days to inform us further about what comes next in the Fall 2019 semester.

Take care,

~Brien

Brien K. Ashdown, Ph.D.

Associate Professor of Psychology
---
– Reporting & Photos by Gabriel Pietrorazio
An undergraduate student at Hobart and William Smith Colleges, Pietrorazio has written for the Town Times of Watertown, Connecticut and Finger Lakes Times in Geneva, New York. He's currently an intern reporter for FL1 News, and can be reached at [email protected].