Friday night in Wayne-Finger Lakes high school basketball saw some big early season wins and some great individual performances.
The biggest win of the night came from the Wayne Eagles who begin their quest for a Sectional title three-peat in Class A2 by earning a 3-point win over Pittsford-Sutherland. The Eagles were led by Nick Carmichael with 19 points and senior point guard Billy Thompson added 13 points to go along with 9 steals.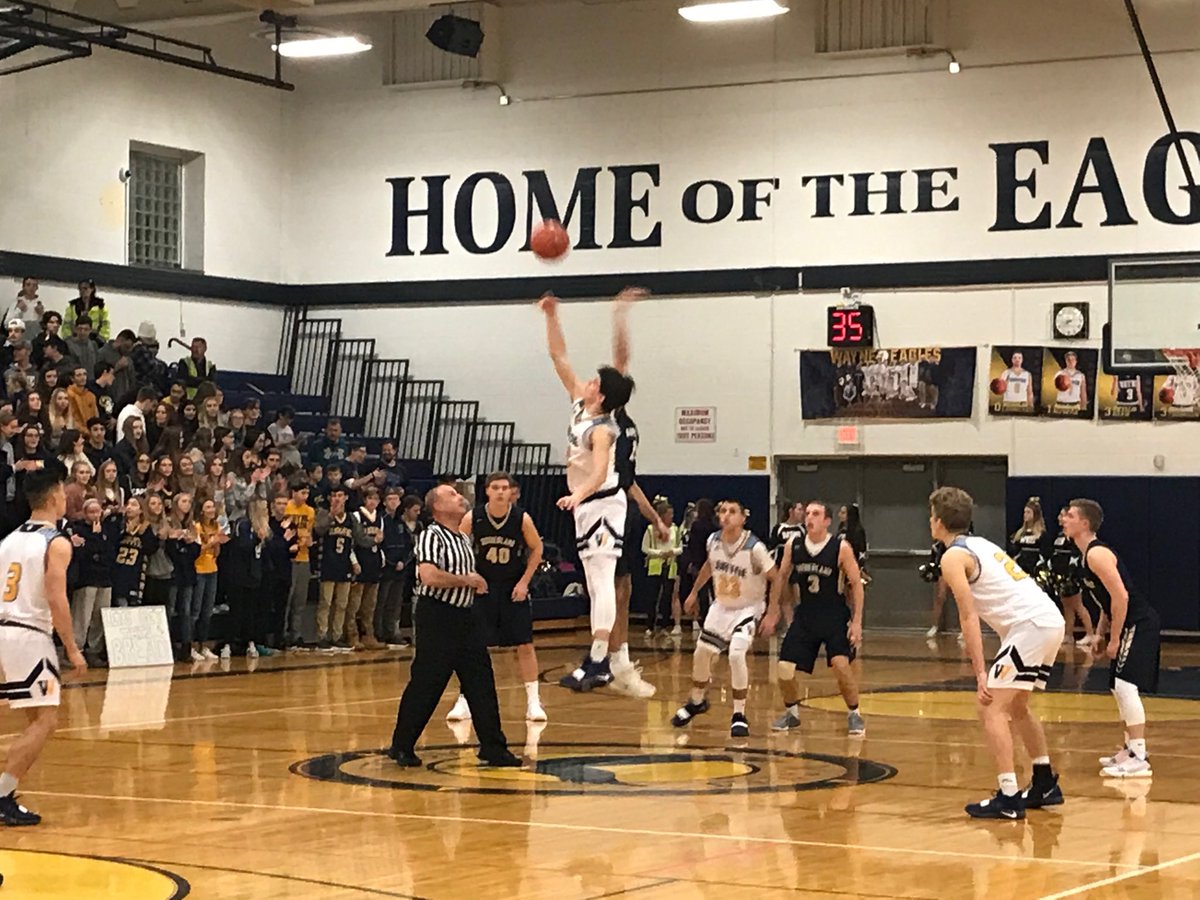 The most impressive individual performance of the night came out of the Vine Valley with Autumn Kunes lighting up the gym for 37 points as the Naples Big Green defeated Campbell, 45-37. With last year's leading scorer Haylea Langan now on the Penn Yan Mustangs, Kunes will have plenty of more opportunities to have nights like this going forward. In the win, Kunes scored all of her teams point except for Adrianna Bradley's 4 point outing and 2 points apiece from Delaney Sauer & Angie Lombardo.
Full results from Friday night on the hardwood are below along with Saturday's slate of games that includes a Live Triple-Header on FingerLakes1.com.
…
LAST NIGHT'S BOYS SCOREBOARD:
DUNDEE 44 AT HAMMONDSPORT 56
DUN – Austin Gibson 16; Michael Hand 10
HAM – Parker Watson 27; CJ Hill 15, 10 reb
RED CREEK 48 AT EAST ROCHESTER 57
RC – Dan Smith 21; Damin Jones 14; Jack Smith 8
ER – Austin Mack 20; Alex Rans 12; David Warren 11; Brandon Gray 8
First game ✅ good job with the win tonight ERVB! @ERBombers @Bombers_Sports pic.twitter.com/aprbnMhRHV

— East Rochester Cheerleading (@er_cheer) December 1, 2018
Boys Varsity wins 57-48 over Red Creek! Congrats boys! ?

— Bomber Athletics (@Bombers_Sports) December 1, 2018
PITTSFORD-SUTHERLAND 60 AT WAYNE 63
PTS – Matt Panara 17; Ben DiGiovanni 14; Kevin Ryan 12
WYE – Nick Carmichael 19; Billy Thomson 13, 5 ast, 4 reb, 9 stl; Logan Blankenberg 13, 8 reb
Sutherland passes out of bounds. 63-60 Wayne 3.7 left. @PCSDAthletics @sectvbb @PickinSplinters pic.twitter.com/Zf5EL4L7TE

— WayneCSD Athletics (@WCSD_Athletics) December 1, 2018
FILLMORE 59 AT HONEOYE 53
HYE – Tyler Rudolph 28; Dom Trippi 12
Honeoye's Lydia Hall play's the National Anthem on her violin before the start of the Varsity basketball game between the Bulldogs and Fillmore. @HoneoyeSports pic.twitter.com/3dWMi7Ul0G

— Jack Haley (@jackhaley42) December 1, 2018
Fillmore has jumped out to a double digit lead in the first quarter. @HoneoyeSports @sectvbb pic.twitter.com/507iC8yoWc

— Jack Haley (@jackhaley42) December 1, 2018
TONIGHT'S BOYS SLATE (12/1):
WILSON-MAGNET VS LYONS – Watch LIVE on FL1 Sports
PENFIELD VS GENEVA – Watch LIVE on FL1 Sports
GREECE-OLYMPIA VS WATERLOO – Watch LIVE on FL1 Sports
VICTOR VS NEWARK
PAL-MAC AT BLOOMFIELD
BATH-HAVERLING VS MIDLAKES
MARCUS WHITMAN VS PENN YAN – Listen on WFLR
TBD VS SOUTH SENECA
TBD VS HAC
---
LAST NIGHT'S GIRLS SCOREBOARD:
GANANDA 50 AT LYONS 32
LYO – 32 Jasmine David 11, 12 reb; Caiden Crego 8; Alison Cook 5, 8 reb
Girls basketball moves to 2 and 0 to start season with 50-32 win over Lyons tonight. @WeAreGananda #GanandaProud

— GanandaBluePanthers (@GHSAthletics1) December 1, 2018
MARION 65 AT SODUS
SOD – 26 Fatimaah Findley 15, 6 reb; Tiana White 7
WILLIAMSON 49 AT NR-WOLCOTT 42
WIL – Cadie Newby 12; Reagan Mangos 12; Eryn Grell 9; Shaylyn Miller 8
NRW – Eva Norris 20; Mercedes Crum 8; Hanna Stubbe 7
CLYDE-SAVANNAH 29 AT DUNDEE 47
DUN – Megan Sutherland 13; Mackenzie Strait 12, 6 ast; Hallie Knapp 10, 6 reb
PENN YAN 42 AT MARCUS WHITMAN 25
PY – Ashley Sisson 12, 7 reb; Peyton Comfort 12; Haylea Langan 6, 10 reb
MW – Maddie Ryan 8; Ari Beverly 5; Gina Rossi 4
CAMPBELL-SAVONA 37 AT NAPLES 45
NAP – Autumn Kunes 37; Adrianna Bradley 4; Delaney Sauer 2; Angie Lombardo 2
Girls hoops: @NaplesAthletics tops Campbell-Savona, 45-37. Autumn Kunes scores 37 freakin' points for Big Green. For C-S, Megan Bryan scores 13.

— Bob Chavez (@MPN_bchavez) December 1, 2018
NEWARK 40 AT SARANAC 42
EAST ROCHESTER 59 AT RED CREEK 57 – OT
DUBS ALL AROUND! Congrats Varsity Girls on winning in overtime 59-57 over Red Creek! ?

— Bomber Athletics (@Bombers_Sports) December 1, 2018
TONIGHT'S GIRLS SLATE (12/1):
NEWARK AT OGDENSBURG
WAYNE AT RUSH-HENRIETTA
BLOOMFIELD AT LEROY
ROMULUS AT HAMMONDSPORT
---
MORE FROM LAST NIGHT IN SECTION V & WAYNE-FINGER LAKES HOOPS:
Tony Arnold and Jalen Rose-Hannah paced a big third quarter for @EastridgeHoops Story by @jml5798 https://t.co/FiRyzvPSZx

— Paul Gotham (@PickinSplinters) December 1, 2018
Livonia 76. Perry 52. Great start to the season men! Enjoy the win tonight, back to work tomorrow!!

— LivoniaBasketball (@LivoniaBball) December 1, 2018
Early edition is here: https://t.co/UZo4PlwpI9

— Paul Gotham (@PickinSplinters) December 1, 2018
It's part of the process to have new players adjust to a new basketball season. But for area boys teams getting into the 2018-19 season, the players aren't alone. At least 5 new coaches are in charge of area teams. https://t.co/n9H9fCqUeW

— Bob Chavez (@MPN_bchavez) November 30, 2018
Livonia Boys Basketball begin the forth quarter leading Perry 58-44. The fast pace running Bulldogs are on fire! pic.twitter.com/LQiPOJfh81

— LCS Athletics (@AthleticsLCS) December 1, 2018
Melvin Council Jr. gets the tap in. 1:02 to go @GAHSBoysHoops 65 UPrep 63 pic.twitter.com/7F3QHNzcDJ

— Paul Gotham (@PickinSplinters) December 1, 2018
BASKETBALL: Elba girls will be one of Section V's elite teams again this winter as Lady Lancers blow out Albion in opener; O-A, Pembroke girls both advance in tourney action. https://t.co/S7IPAZsusx

— Daily News Sports (@BataviaDNSports) December 1, 2018
?Elba vs Albion – @SectionVsports

•Elba 73 Albion 28 | FINAL

Elba head coach Tom Redband, sophomore Leah Bezon, sophomore Maddie Muehlig, and sophomore Brynn Walczak on the big win@ElbaCentral @ProudLancerSupt @SectionVI #GirlsBasketball #SectionV pic.twitter.com/bQCNGZjiDT

— alex brasky (@alexbrasky) December 1, 2018
https://twitter.com/jchermance/status/1068636348276445186
Webster Thomas had a chance to tie the game on this possession but it's no good as Lamar Lovelace hits 2 FTs to ice the game. NE Douglas wins in 2OT 79-74 @PickinSplinters @sectvbb pic.twitter.com/RVCoZlLmEy

— John Mitchell Likanje Junior (@jml5798) December 1, 2018
https://twitter.com/MWgirlshoops/status/1068620581271207936
Newark Lady Reds took on the Dansville Mustangs at Dansville! And we stumbled along my dad's wall of fame plaque! Which called for a goofy selfie with the plaque itself! ❤️#newarkcsd #ladyreds #choosejoy @McgaviskMichael pic.twitter.com/FObBF9sElb

— Caroline McGavisk (@CarolineMcG44) November 30, 2018
Down 5 with :15 remaining in overtime, NE Douglass survived. And it took a career-high effort from Adonis Flagler. Story by @jml5798 https://t.co/ghkh1VB1tQ

— Paul Gotham (@PickinSplinters) December 1, 2018

This content is brought to you by the FingerLakes1.com Team. Support our mission by visiting www.patreon.com/fl1 or learn how you send us your local content here.