On Tuesday, the Seneca Falls Town Board heard from multiple residents about concerns raised over the proposed 2019 Town Budget.
Once again, local residents raised concerns about the possibility of taxes increasing again. In 2018, the Town saw one of the biggest increases in property tax levy in recent memory – as it jumped more than 60 percent between 2017 and 2018.
That was largely due to the Town not scheduling the use of funds delivered to the General Fund via an agreement with Seneca Meadows Landfill. At the time, litigation risked the delivery of those funds, so the Town Board opted to budget without them. Given that the board also did not reduce spending – a budget shortfall of more than $2 million was realized, which required the property tax hike.
.
At a public hearing on the proposed budget – local residents and stakeholders shared their concerns.
Mark Benjamin, who is employed by Seneca Meadows, appealed to the board to consider options to lower taxes. "I have been asked by several Seneca Falls resident taxpayers to appeal to you to lower their taxes," Benjamin explained. He recounted an interaction with one particular taxpayer at a local store. "Mark, what are you going to do? I cannot afford my taxes to go up!" he said, addressing the Town Board.
Benjamin called on three board board members who voted against resetting the general fund rate back to 2017 levels, which were $6.09 per $1,000 assessed value, as well as the pay raises to the Town Board. He was also critical of those three board member's decision to vote against a $100 million proposition from Seneca Meadows, which would have created a new host agreement between Seneca Meadows and the Town of Seneca Falls.
That deal would have been worth $5 million per year.
Benjamin was also critical of the board's vote to litigate "one of the largest job makers and single-largest taxpayer in the Town."
"We cannot afford your [plan] to increase taxes and drive out jobs and businesses," he continued. "Go back and resolve to come up with a budget plan that provides tax relief in the amount of $100 million."
Brad Jones, former mayor in the village of Seneca Falls, and taxpayer said Town Supervisor Greg Lazzaro should have done more to prepare a 'cost conscious' 2019 budget. He also spoke to concerns raised by others in the business community regarding continued operation of Seneca Meadows.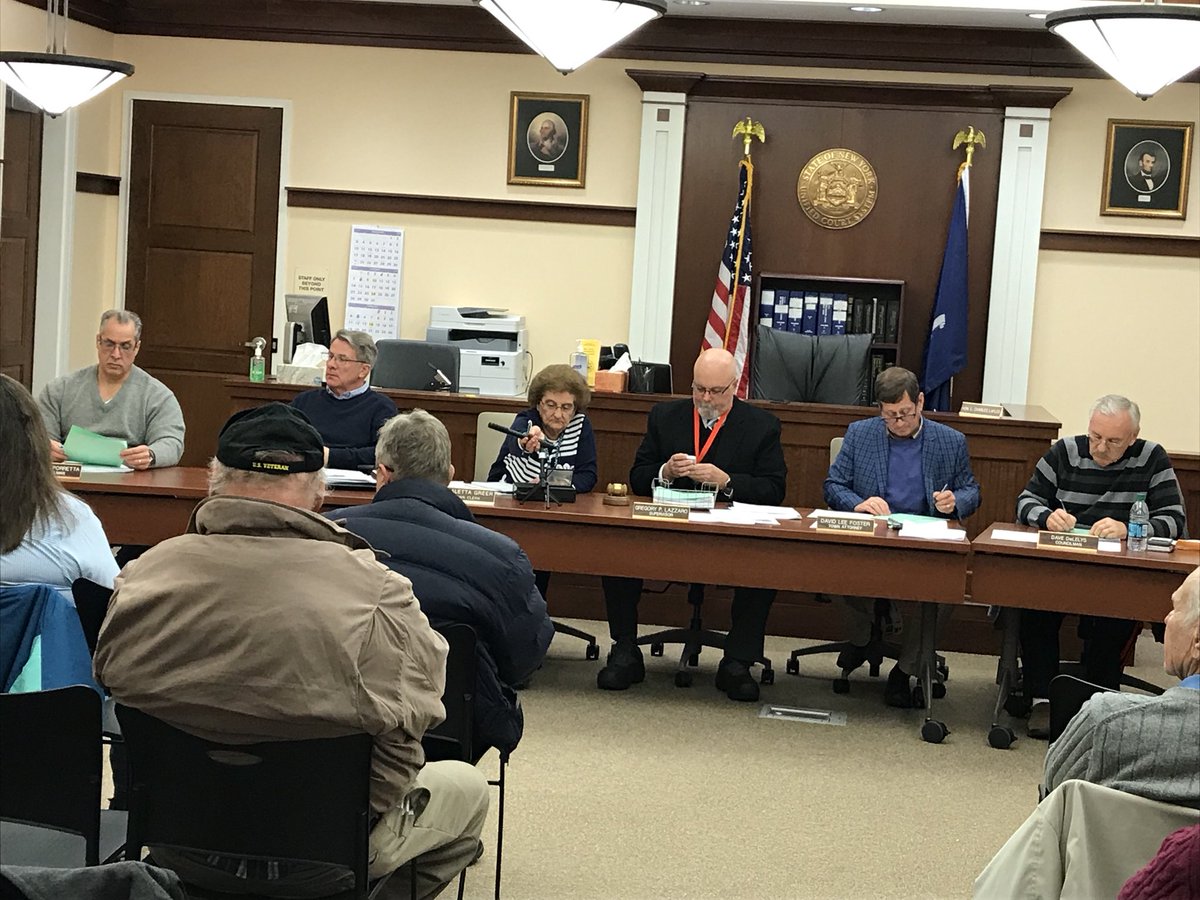 "Both Bruce Bonafiglia, President of Bonadent and David Malinas, President of ITT Goulds Pumps, have given you a head's up in their recent correspondence that their combined workforces, which exceeds 800 employees, 'trumps' SMI's payroll of 50 to 75 employees," explained Jones. Both Bonafiglia and Malinas had gone on the record in recent weeks – noting that the operation of the region's largest landfill in Seneca Falls concerns them.
Jones addressed his own concerns in the budget. "It's too top heavy," he explained. "Three areas specifically: 1) engineering projects provided by Barton & Loguidice; 2) Spending unnecessary funds for outside legal counsel for a second straight year; and 3) too many infrastructure projects scheduled for one single year," he continued. "They need to be spread out."
He asserted that B&L views the Town of Seneca Falls as a 'cash cow' for engineering projects, and that the Town should consider rebidding engineering work to find a more cost-effective option. Jones also suggested reducing the Town Attorney and IT Department Head positions to part-time. "It's an easy fix – just remove these positions from the proposed 2019 budget that's before you this evening."
As for the infrastructure upgrade allocations – Jones laid out a plan in 'thirds'. His plan took the total funds allocated to infrastructure upgrades across the general fund, water, and sewer – splitting it into three pots. Under his plan the following would happen:
1) A third of the allocation would go to infrastructure needs in 2019;
2) A third would go to a reserve fund for future infrastructure needs; and
3) The remaining third would go to reducing the overall property tax levy – serving as tax relief.
Jones also noted that the Town needs to reassert itself in the economic development realm. With a number of properties eligible for grants, and future opportunity – the Town's economic development driver appears to be at a standstill – with no funding in the budget for the Seneca Falls Development Corp. in 2019.
Benjamin also spoke to the necessity of finding tax relief somewhere in the budget process. "For the record, for that taxpayer who pleaded with me at Walmart, in front of this board today, we have done everything we can do to work with the town to find common ground and provide the tax relief needed for all Seneca Falls taxpayers," he concluded.
The board did not vote on the budget, and another session is scheduled for November 14th at 3:30 p.m.

This content is brought to you by the FingerLakes1.com Team. Support our mission by visiting www.patreon.com/fl1 or learn how you send us your local content here.