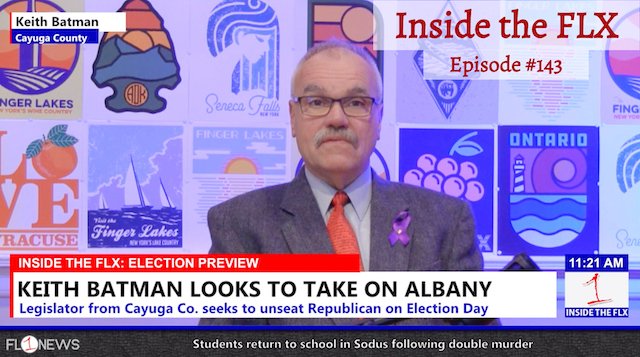 As Keith Batman, the Cayuga County Legislator who held the Chairmanship until 2018, sat down with FingerLakes1.com little more than a week before Election Day – he was optimistic about his odds.
While beating any incumbent can be difficult – challenging Republican Gary Finch in the 126th Assembly District has Batman optimistic. He's a formidable opponent, but Batman is hearing resident's concerns.
"My message is resonating. My particular platform is something that people understand and expect. I've been in every county; and it's a big district. People know it's time for change. They're enthusiastic and positive," he explained. "Government and elected positions are all about serving community, and serving people. It's not about name calling or negativity."
LISTEN TO THE FULL CONVERSATION:
That negativity is something Batman has worked hard to avoid throughout the election cycle. "I think that's hitting home with people," he added. "At the same time, it's about record."
"Anytime voters have given an elected official as many years as they have given my opponent – without seeing specific results for the district – it's time for change," he added. "My focus on community. Elected representatives need to be a 'voice' for the people."
Given New York's current political condition, Batman believes that ethics reforms are desperately needed. "People's confidence in government has been eroded. And the actions of elected officials have eroded that confidence. We have to elect people of the highest ethical standard to all levels of office," Batman continued.
Ethics reform isn't the only issue Batman will be pursuing if chosen by voters on Election Day. Jobs, access to healthcare; and affordable healthcare at that – as well as bolstering the region's infrastructure are priorities.
"Jobs are important. Not just jobs, but good paying jobs. We also have to make sure healthcare is affordable for everyone. And when it comes to infrastructure – we need to focus on water quality across the district," Batman added. "When we talk about infrastructure, though, we absolutely must help build roadways and expand broadband access, too."
Batman believes building a better district involves getting back to basics, and restoring the promises that were made in years past by the incumbent, but ultimately unfulfilled.
---