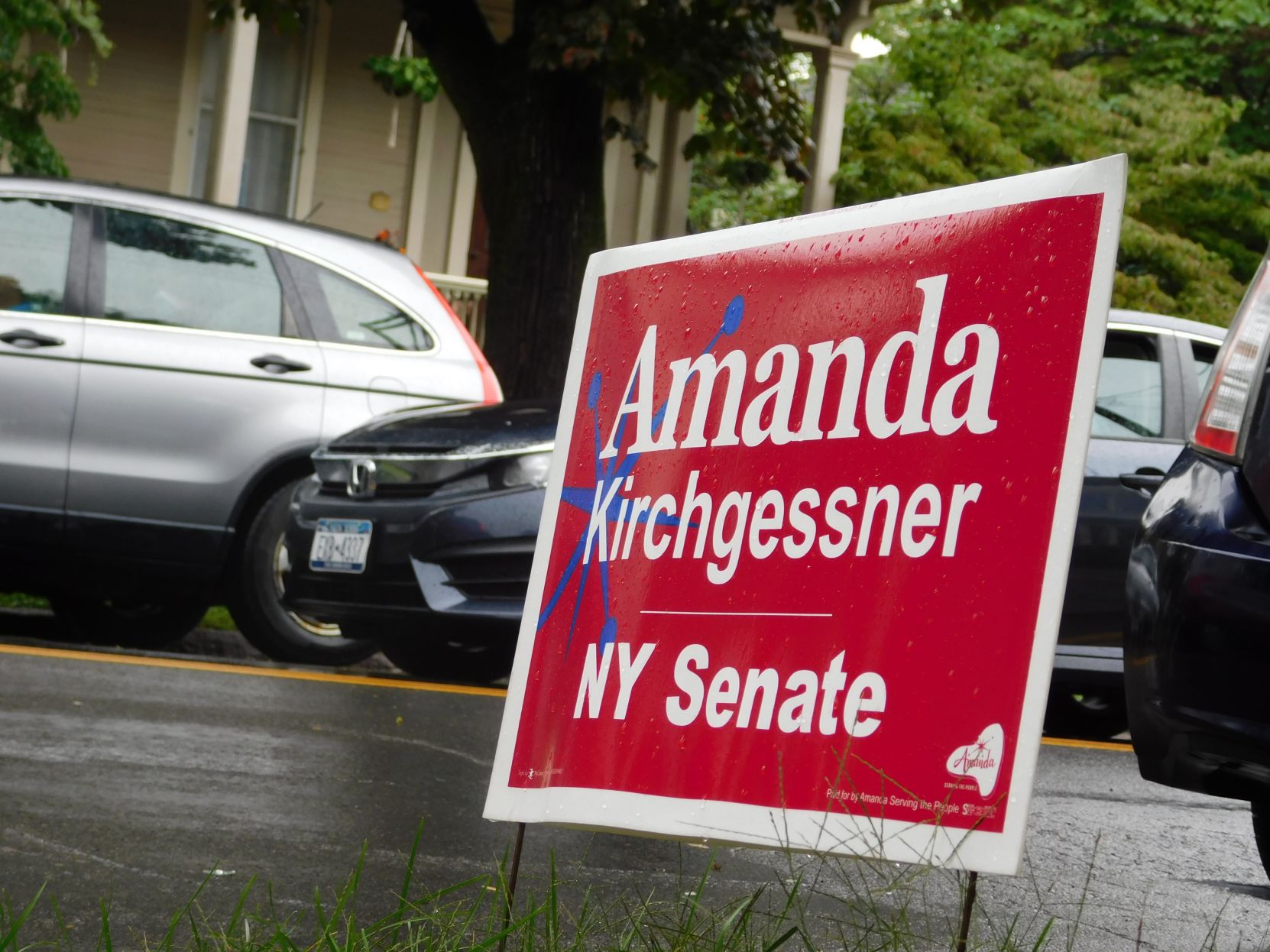 The Ithaca Times reports that Amanda Kirchgessner, a progressive Democratic candidate contending for a seat in the New York State Senate representing the 58th District, has been accused of several instances of domestic violence and abuse during her last marriage.
According to the Times, Kirchgessner's ex-wife, Brandi Morgan said an abusive pattern in the latter years of their marriage.
That marriage ended in 2016.
The allegations include grabbing, pushing, throwing objects, verbal abuse, intimidation and possible threats against Morgan and their pets.
My newest story: The ex-wife of NYS Senate candidate Amanda Kirchgessner has come forward alleging physical and verbal abuse by Kirchgessner from 2014-2015 as their marriage came to an end. #twithaca https://t.co/npNYgeYqkJ

— Matt Butler (@AllegedButler) October 2, 2018
Despite these incidents now becoming public, Kirchgessner has issued a statement defending herself and stating that she will remain in the race. Her statement is included in its entirety below:
"On Tuesday, October 2nd, the Ithaca TIMES published a story that contained serious allegations concerning my character and past actions.

One is true. In 2011, I was arrested and later pled guilty to a DWI charge. Drinking and driving was a terrible mistake for which I make no excuses. The conviction is a matter of public record, and I have never attempted to hide it or the accident that my excessive drinking caused. I received counseling about my drinking habits which I took to heart and which changed my life. I know the consequences of reckless and irresponsible drinking. In Albany, I will be a fierce champion of laws that curtail the lethal mix of driving while drunk or drugged.

The second allegation is false. While I was in an abusive marriage, I was not an abuser. I do not understand what compelled my former spouse to contact a reporter with such vicious and false charges. Our breakup was difficult and hurtful. I called 911 multiple times, and we both called 911 at the same time on one occasion. Police did visit our home. As the TIMES story indicates, no charges were ever made. I bear no ill will to Brandi Morgan, my former wife. I hope that she eventually finds some peace and moves on from a failed relationship that appears to still consume her.

I understand that Matt Butler, the reporter who wrote the story, felt compelled to rush it out to the public. I am, however, disappointed that he never contacted any of the eight individuals I suggested he contact, eight individuals among many in this community who can attest to the true history of my marriage and to my character. I will ask the TIMES to carry a long OPED by me describing in more detail the painful nature of my marriage and the emotional abuse I suffered. My fiance, Stephanie, will also be issuing a statement within a day or so.

Past mistakes and events do not define me. I was able to move on from my DWI conviction and a failed abusive relationship. In the years since my conviction and the end of my marriage, I have channeled my passions into political activism and a demand for social change. Too many people in our society remained trapped in alcohol or drug abuse and remain in abusive relationships. My experiences, while personally painful, have made me who I am – someone who will speak for those who cannot.

I will be happy to speak with any other reporters who wish to contact me."

This content is brought to you by the FingerLakes1.com Team. Support our mission by visiting www.patreon.com/fl1 or learn how you send us your local content here.