It's been several months since 'residency' was a debated issue in Seneca County.
However, a letter drafted to the Board of Supervisors from a 'concerned taxpayer' is calling for an 'investigation' into the matter. "We have been made aware that the current commissioner of the [human services] division does not live in Seneca County," the letter begins. "Therefore [the person] is not a Seneca County resident. It is our understanding that the Commissioner must be a permanent resident of Seneca County an d not just have and use a fictitious address where they do not resident."
The author of the letter, which is not identified – calls into question a number of factors – including honesty and an unethical practice of changing the rules of engagement. "We are asking you to do the right thing for the taxpayers of Seneca County and investigate and show us that we are being represented with integrity," the letter concludes.
Tracy VanVleck, a Junius resident, was named to succeed Charles Schillaci in March, as Seneca County's commissioner of human services. She was appointed to a five-year term by a unanimous vote of the supervisors.
Last year, Fayette Town Supervisor Cindy Lorenzetti inquired about this matter, which even made it to a government operations committee session. While an 'investigation' was not executed – the identity of those who lived outside the County; and retained positions of 'department head' status were not hidden. The supervisors openly debated and discussed the matter with little certainty on which direction they would go.
Ultimately, the supervisors decided against taking action on the matter – and elected to judge these scenarios on a case-by-case basis. In neighboring Ontario County – a similar debate took place over the winter – as Geneva City Police Chief Jeffrey Trickler was ridiculed by members of the community for taking a stipend to relocate into the city – despite the fact that a 'residency move' never happened in the several years that followed.
Does any of this address the author's concern about integrity or transparency?
It depends on the author's subjective view on how an 'investigation' is classified. The matter was discussed by the supervisors – and failed to change any policies that exist; and rather approached it as one to be handled on a 'case by case' basis.
In 2017 when this debate took place – Supervisor Lorenzetti suggested that the rule either be enforced – or taken off the books. However, County Attorney Frank Fisher expressed concern over a 'residency' clause in general, because it's one that becomes difficult to enforce in court.
It's unclear if the supervisors will consider this item again.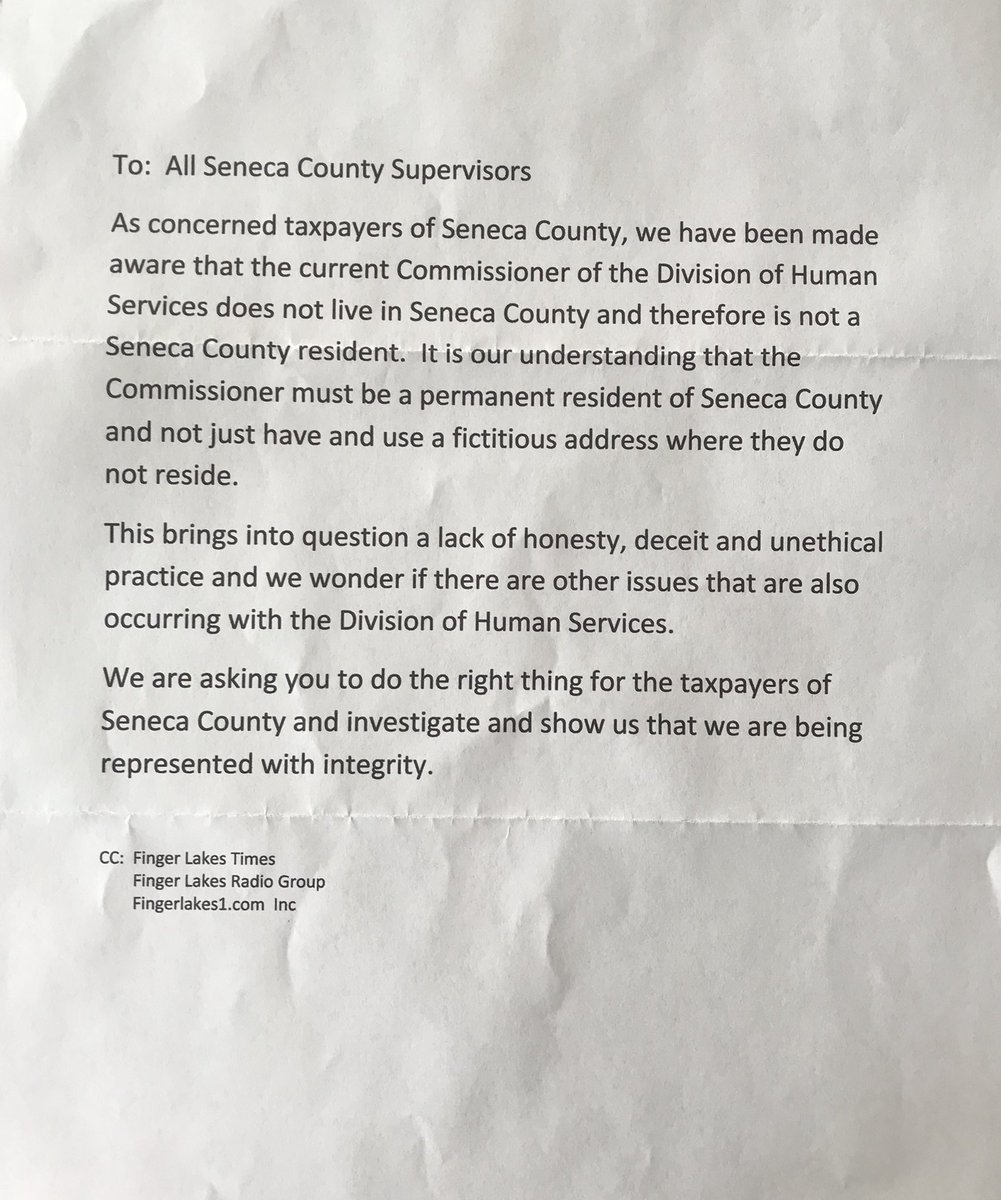 Editor's Note is a monthly feature by FL1 News Director Josh Durso, which answers questions raised by our readers within major news stories. This column will dive into a wide-range of topics. Let us know your questions in the comment section below, or on Facebook and Twitter. You can also submit questions via email by dropping a line to [email protected].

This content is brought to you by the FingerLakes1.com Team. Support our mission by visiting www.patreon.com/fl1 or learn how you send us your local content here.