Wednesday will be a snowy, cold, blustery day making it feel like mid-winter, despite spring being a short time away. Check out the latest forecast information below as winter continues to thrash the Finger Lakes.
---
*** PLANNING FORECAST AT A GLANCE ***
---
– Areas of lake effect snow will continue throughout the day, according to FLX Weather Meteorologist Drew Montreuil. Some squalls, which will dump moderate amounts of snow will be spread throughout the afternoon and evening as well.
– The snow will be heaviest in the Eastern Finger Lakes, over the hills of Cayuga and Owasco lakes. While the rest of the region should see anywhere from 2 to 5 inches of snow, these areas will likely end up with more than a foot of fresh snow.
– Strong winds will develop during the afternoon hours, which will bring blowing and drifting snow into the equation. Gusts could be in the 30 to 40 mph range, with higher gusts possible in those 'higher' terrains and hilltops.
– By evening, the snow will begin pulling out of the region, as the system responsible for creating the lake effect snow gets pushed away. By midnight it should be completely over for most of the Finger Lakes.
– Thursday will remain windy, and cold despite some sun popping out, according to Montreuil, who says that the cool, breezy pattern will continue. By the weekend, the weather should improve to a point where temperatures will moderate.
Check the below resources for the latest on the winter weather.
---
FingerLakes1.com Weather Center   |   FLX Weather – Latest Report   |   National Weather Service
---
Radar & Maps
---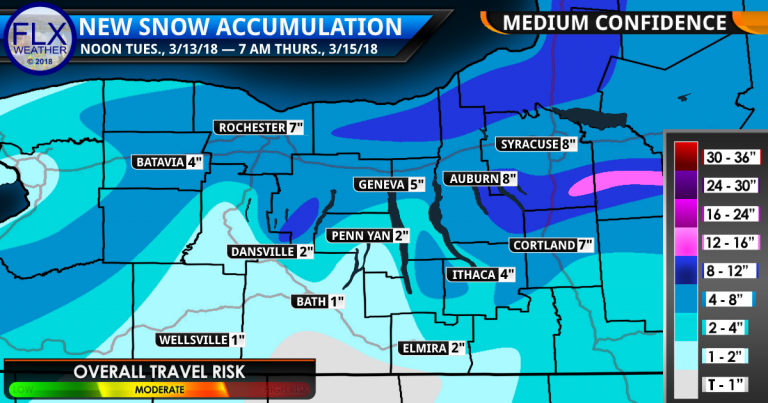 ---
Local Weather Resources
---
– FingerLakes1.com Weather Center
– Local Weather Cancellations
– Thruway Advisories & Conditions
– National Weather Service (Buffalo)
– National Weather Service (Binghamton)
– NYSEG Power Outages (FLX)
– RG&E Power Outages (WNY)
– National Grid Power Outages (CNY)
– Finger Lakes Weather (FLXWeather.com)
– Lake Ontario Levels
– Live Local Weather Cams
---
Active Warnings / Advisories / Watches by County
---
REPORTS FROM SOCIAL
---
It's a Beautiful Day plays on the radio but the roads not looking so beautiful on 104 E. Conditions got worse after we crossed the Bay Bridge. @13WHAM @989TheBuzz pic.twitter.com/LknIxGQGRr

— Alexis Arnold (@1AlexisArnold) March 14, 2018
Snowing beautifully in Canandaigua. Video doesn't do it justice. @wxbywilliams @whec_rcaniglia pic.twitter.com/A9DRiXqYUQ

— Liam Foley (@LiamFoley1963) March 14, 2018
Oh come on! Clear off your back window. pic.twitter.com/hRhuqdvuCa

— Alexis Arnold (@1AlexisArnold) March 14, 2018
The car that slid off the road on 104 Eastbound is just now getting some help, about an hour and a half later. Crews are busy with other accidents and delayed by road conditions @13WHAM pic.twitter.com/zYQiFA3EEq

— Alexis Arnold (@1AlexisArnold) March 14, 2018
@NWSBUFFALO 3.5" of snow overnight in northern a Town of Phelps, Ontario County. Slushy on the bottom. Not much wind yet.

— Brad Timerson (@btimerson) March 14, 2018
Moderate impact #LakeEffectSnow event continues today in the #FingerLakes, especially east of Cayuga Lake. No changes to my forecast from Tuesday.
→ https://t.co/NflQOeKyM0#FLX #Twithaca #ROC #CNY #WNY #NoHype #LocalWeather #NYwx

— Finger Lakes Weather (@FLX_Weather) March 14, 2018
If the same HRRR model proves true, we'll be dealing with squalls through the afternoon until just before sunset with the steadiest snow south and east of #ROC. Expect winter driving conditions into tonight. pic.twitter.com/XtJgbQAicR

— Josh Nichols (@wnywxguy) March 14, 2018
8:25 am radar update: Band of heavy snow extends from southern Monroe Co. Cuts through the Finger Lakes. Snowfall rates 1"+/hr. Boost from both Lake Ontario and the Finger Lakes. Our Syracuse based radar shows it nicely! pic.twitter.com/TKexzZe4LS

— Josh Nichols (@wnywxguy) March 14, 2018
Hmmm. Looks like a little assist off Georgian Bay happening to boost snowfall rates in Western NY? pic.twitter.com/TM37ddPns9

— Josh Nichols (@wnywxguy) March 14, 2018
Chevy Mobile Weather Authority on 390 southbound, just beyond Lexington. The slowdown begins before 104. pic.twitter.com/w55yuudI3m

— Marty Snyder 13WHAM (@MartySnyder13) March 14, 2018
#GOES16 water vapor imagery shows the exiting #noreaster throwing a slug of moisture back across the eastern #GreatLakes…one of the main reasons for all the #snow in #cny today. pic.twitter.com/RHim1HuZJf

— NWS Binghamton (@NWSBinghamton) March 14, 2018
At 8 a.m. moderate snow is falling in Rochester with the visibility down to half a mile. Main roads are doing better, but side roads are still snow covered in many spots, so allow extra time this morning! #ROC pic.twitter.com/ikVpBUlGbk

— Josh Nichols (@wnywxguy) March 14, 2018
A close up look at that crash. One car involved. The roads are still slippery. Lane merges to one lane in this area. Minor delays. Driver of the car appears to be ok. @13WHAM pic.twitter.com/qLnzED63BF

— Alexis Arnold (@1AlexisArnold) March 14, 2018
A crash on the inner loop in the westbound lanes. Causing some delays. @13WHAM pic.twitter.com/3dBCYm4tSr

— Alexis Arnold (@1AlexisArnold) March 14, 2018
Every 90 degree turn you will slide and the same with any stop and start pic.twitter.com/oGdrkuOpYA

— Tina MacIntyre-Yee ? (@tyee23) March 14, 2018

This content is brought to you by the FingerLakes1.com Team. Support our mission by visiting www.patreon.com/fl1 or learn how you send us your local content here.