The current snow removal policy in Seneca Falls 'works' if the entire community pulls their weight. That was the word on Monday from Seneca Falls Highway Superintendent Jim Peterson, who provided an update on last week's snow removal efforts after heavy snow blanketed the Town.
"The policy works if everyone in the community works together," explained Peterson, who said that snow removal isn't as simple as it might seem on the surface.
He said that the existing policy is clear and puts the responsibility on the homeowner, property owner, or storefront operator — in the case of the Town's two business districts. "On Sunday we cleared the crosswalks, and checked downtown sidewalks," Peterson added. He said that his crews checked downtown daily, until the snow had finally been cleared to a point where his team could get at it.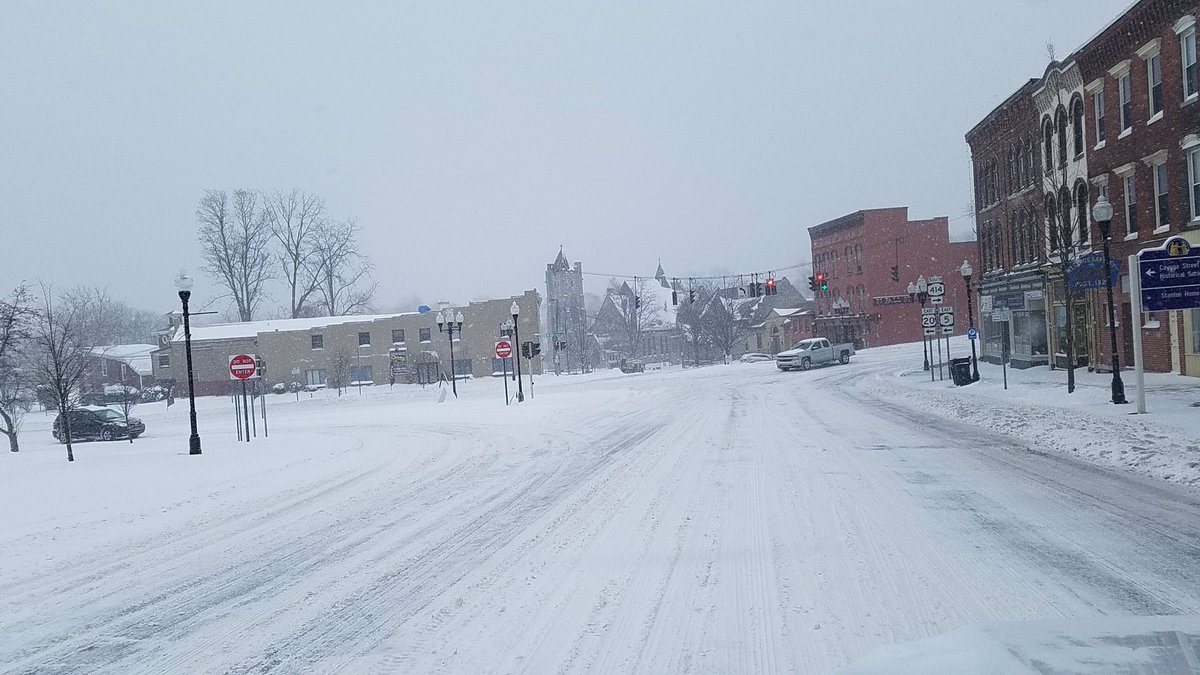 The Town Code states that those who operate storefronts, or own property downtown are obligated to push snow to the curb. At that point, Peterson and the Seneca Falls Highway Department come in and clean the snow out.
Staffing is another concern, according to Peterson. "I have a crew of six guys and myself" he explained. "That's our department for all of Seneca Falls. As an example, we plow 118 miles of roads every time we go out to plow — plus two big municipal parking lots. Most storms require us to do more than one run."
When they made it downtown for those frequent checks — highway staff were greeted by uncleaned sidewalks — a violation of the Town's policy. "It says they have to clear it by 9 a.m. after the storm," he added, pointing out that they even checked the status of the sidewalks on Martin Luther King Day.
"We checked things out on Sunday, and on Monday some of the sidewalks still remained untouched in the two business districts," added Peterson. At that point, he contacted Zoning & Code Enforcement Officer Dean Zettlemoyer, who contracted with a third-party to clear the sidewalks to the curb.
"We were finally able to start the cleanup in the two business districts Monday night," Peterson continued. "We had parking lots, sidewalks and the entire Town that we are responsible for cleared of snow and hauled away by mid-week."
Peterson emphasized the importance of all parties involved doing their part to ensure that the community is clear of snow after events like the one last weekend. "Again, the policy works if everyone works together," he concluded.
Seneca Falls Town Councilman Lou Ferrara said last week that his aim is to revisit the policy and create a change. "I am going to propose that both business districts get cleaned by the Town. It's everyone's business district and to all our advantage to keep it cleaned — sidewalks to road," he added. "Other towns do it we should too."
In an update to that, FingerLakes1.com learned from Kim DeVay, who was speaking on behalf of Councilman Ferrara that remaining snow that is on sidewalks extending up Fall Street to Balsey Road and State Route 414 is being taken care of. Following the policy in place now, a third-party contractor will be utilized for taking care of those sidewalks at the expense of the individual property owner.
Last week, Town Supervisor Greg Lazzaro said that he's open to 'out of the box' thinking on ways to improve the downtown setting around winter weather events. He did not specify what kinds of changes he might support.

This content is brought to you by the FingerLakes1.com Team. Support our mission by visiting www.patreon.com/fl1 or learn how you send us your local content here.